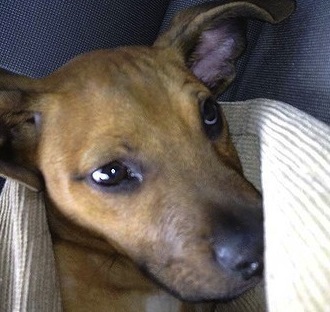 There is a $25,000 reward being offered by an anonymous friend of Russell Simmons, dog lover and musician, for information leading to the arrest of the person who abused a pit bull puppy in the Long Island, NY, area. Someone saw a plastic bag being tossed out of a moving car and stopped to see what it was. Inside the black plastic bag was a puppy, screaming in pain and severely malnourished. The good Samaritan immediately took the puppy to the West Islip Emergency Veterinary Clinic. Later named Joey, the puppy had bite mark all over his body, multiple bone fractures, and a broken neck.
Officials believe Joey was being used as a bait dog in an illegal dog fighting ring. Bait dogs are usually docile, happy dogs who won't fight. Individuals who are involved in this horrendous, unspeakable crime have no problem sacrificing these dogs to get the dogs they've trained to be vicious excited before entering the fighting ring.
The anonymous party who is offering the $25,000 reward has been described by Russell Simmons as "a wealthy black businessman who cares deeply about animals." It's expected that Joey will be able to recover from his physical injuries but the emotional scars will take longer to heal.
The Suffolk County Society for the Prevention of Cruelty to Animals is offering an additional $2,000 for information, hoping that the reward money will encourage whoever knows who did this, and someone does know who did this, to come forward to get justice for little Joey. If you have any information, please call the Suffolk County SPCA at 631.382.7722.