If you love all things big dog or cute kid, this is the post for you! Photographer Andy Seliverstoff has captured dozens of whimsical moments between small children and their enormous dogs – Great Danes, Saint Bernards, Dogue de Bordeaux, and Newfoundlands – gentle giants, every one of them.
Seliverstoff is launching a book called Little Kids and Their Big Dogs, which will feature over 100 photos.  He spent several months in St. Petersburg photographing kids gently interacting with their colossal companions, who appear to genuinely adore their miniscule moppets.
"It's very difficult to say if big breeds get a bad name, because all dogs are very different," he explained.  "We only took photos with dogs that have a stable mind and good temperament, as these dogs are open to bonding with both people and children.  I'm just trying to achieve and convey the mutual contact between a child and their dog."
The idea came to Seliverstoff when friends asked him to take photos of their two-year-old daughter Alice (pictured with the rainbow hat) and their Great Dane.  He also did a photo shoot with a three-year-old boy named Theo and his Newfie, Ringo (shown carrying the basket).  When he posted the photos online, the response was overwhelmingly positive, so he decided to expand his project and turn it into a book.
"The main priority with these photos wasn't just to make beautiful pictures, but to also show how children and their big dogs communicate and make contact with each other."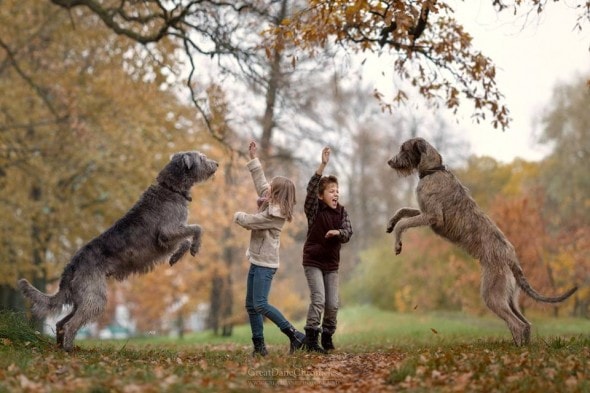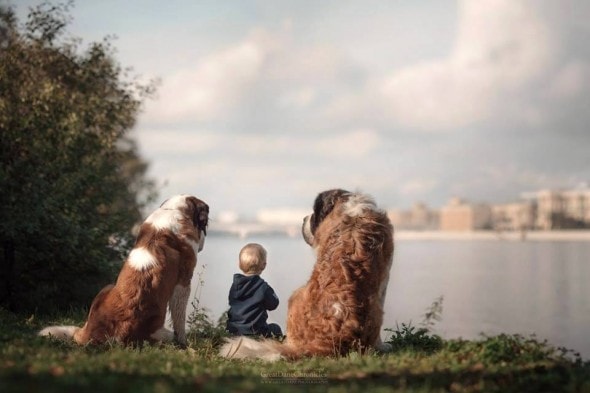 To see all these photos and many more, visit Andy's Facebook page and follow him on Instagram.
While these are some breathtaking photos, we do not encourage allowing children to sit on or ride dogs.  They are not furniture or horses, and this can be dangerous for both the kids and the dogs.