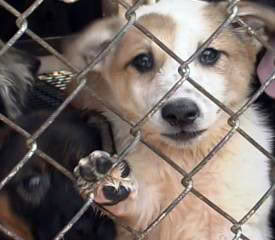 Last week in Raleigh, NC, 163 dogs, 26 birds, and one cat were rescued from a puppy mill. "I will never forget that day," said Darci VanderSlik, community outreach coordinator for the SPCA of Wake County. The dogs were kept in cages in a double-wide trailer with no electricity. The dogs were filthy, matted, caked with feces, and some had broken jaws. At least one puppy died but the rest were sent to shelters as far away as Greensboro and Charlotte.
All the dogs received immediate medical care and grooming. Most have been placed in foster homes where they will learn to be family pets, not just breeding animals. "I think emotional damage – emotional and behavioral damage – that needs time, and it's going to take a lot of time for them to come around," VanderSlik said.
This week, 39 of those dogs will be available for adoption. VanderSlik said people should check the Wake County SPCA website or Facebook page for more information about the dogs who are looking for homes.
Andrew and Amelia Millis of Wilmington have been charged with animal neglect and cruelty and are being held under $1.5 million bonds in the Brunswick County jail. Two lawmakers plan to introduce legislation next year calling for better regulations in dog breeding operations.
"Something has to be done," VanderSlik said. "We're not against responsible breeders. Responsible breeders take care of their animals. We're against commercial breeders that breed for money and not for the welfare of the animals."