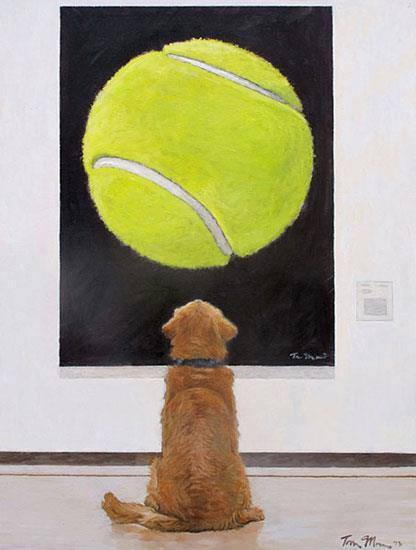 Last month we showed you the photo of a painting called "A Golden Retriever at the Museum." It's a depiction of a golden retriever gazing at a painting of a tennis ball. Many of you wanted to know the story behind the photo, and we're proud to share it with you, along with the an exclusive on the artist's newest work, which is being unveiled today.

The dog in the painting is Lucas. His human is Tom Mosser, the man who created the painting.
"This is my gift to golden retriever owners, to all dog owners, and I wanted to share it," Mosser said.
The image quickly went viral after being posted online.
"We started getting messages and emails. People, some of them, were very emotional about it. They had lost a dog within the last year, (and it) reminded them of their dog," said Mosser. "It covered all gamuts; men, women, countries, people from Thailand, Turkey, Australia."
Everyone wants a print of the now-famous painting, but unfortunately they sold out within five weeks.

Today is the unveiling day of the follow-up painting at the Animal Rescue League in Pittsburgh, and Mr. Mosser has been kind enough to share the exclusive with us. If you'd like your own copy, please visit the website to find out how to get your own copy. There are even t-shirts in the works (with money donated to charities), so keep your eyes peeled!
For more information, please visit:

http://tommosser.com/tommosser.com/Home_Page.html
https://www.facebook.com/tom.mosser?fref=ts
https://www.facebook.com/pages/A-Golden-Retriever-at-the-Museum/248873131917011?fref=ts
Click here to see the video about the painting and how it affected and inspired fans:
http://www.wtae.com/news/local/local-mans-dog-inspires-worldwide-phenomenon/-/9681086/20135796/-/mwt71fz/-/index.html
Here is Mr. Mosser's newest work of art: