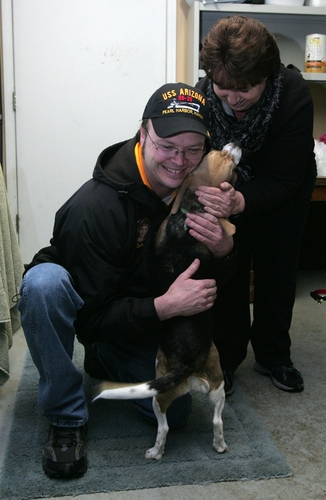 Recently you heard about a beagle from Jamestown, North Dakota that was rescued after being out in freezing weather for several days. Well, St. Valentine has come to bless the pooch with a new home and family to love.  She also has a new name, Sophia Sweetie, given to her by her new nine year old "sister" Madi Schauer.
Madi's parents, Ron and Cindy Schauer surprised her with the gift when she same home from school Wednesday afternoon.  "It's awesome!" Madi said, as she came home that day to find her dog waiting for her. "I never thought of getting a beagle, but now that I've seen them I think they're the most adorablest ever!"  The two spent the afternoon playing and getting to know each other.
"This dog will be loved unconditionally," her father said. "The love from a pet is unconditional love, rewarding in all aspects."  The elusive stray was caught by a live trap on February 2nd, after people had become concerned about the dog's welfare during a period of sub zero temperatures.  "I think we had the easier part, loving this guy," Cindy said of the family's newest member. "They had the harder part — catching her."
After news got out about the stray left freezing in the streets, tips led to the owners who claim that they tried to surrender the dog to the humane society but they wouldn't take her, and then she ran away when she was let off leash.  Meanwhile the Schauer's had been feeling nostalgic about not having a dog since the last of their 4 dogs passed away.  "It has been so weird to come home and there's nobody to greet you," Cindy said. "There's something missing."
Then they saw the story about the beagle and immediately wanted her to be part of their family.  "We brought a paper home and read that story about the dog (to Madi), and for about five days, she slept with that paper and prayed that dog would be hers," Cindy said.  As soon as Sophia was declared healthy by the vet, she was free to go to her new home, where she will have endless amounts of love and a big, safe yard to play in all day long.