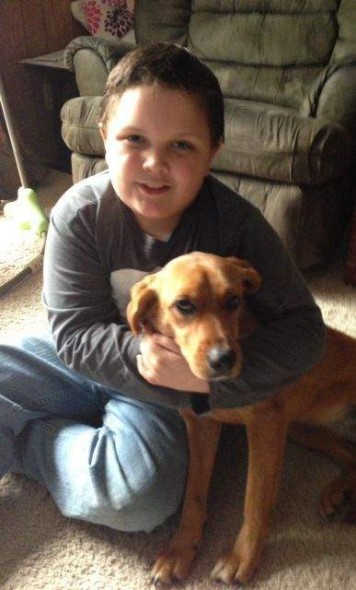 An eight-year-old boy was having a difficult time after the passing of his mother.  When a shelter dog Charlee came into Chase's life, he was able to smile and laugh again.
All through his childhood Chase's mom was in and out of hospitals. After two failed liver transplants she sadly passed away last June. Chase was seven-years-old at the time and devastated. He went to live with his aunt, uncle and grandma, but Chase was struggling with his mother's passing. He became withdrawn.
Chase had always wanted a dog and with his eighth birthday approaching at the end of November his family decided a dog might help the grief stricken boy. The family took Chase to Aiken County Animal Shelter in South Carolina to see if they could find Chase a dog. At first it looked like they might not find the right fit, "There were lots and lots of really cute dogs, but they were really feisty," said Chase's aunt. "I think Chase was a little overwhelmed."
As the family was getting ready to leave empty-handed one of the shelter volunteers came back from a walk with a young dog.  That's when something amazing happened. "It was as if the dog knew Chase, and Chase knew the dog," said Chase's aunt. "She walked up to him quietly and when Chase knelt to pet her, she gave him her paw." Chase instantly lit up and knew he had found his dog, "I'm going to call her Charlee."
Chase and Charlee have been inseparable ever since. Every night she sleeps next to Chase and every day she puts a smile on his face. Charlee has proven that the right dog is the best medicine.