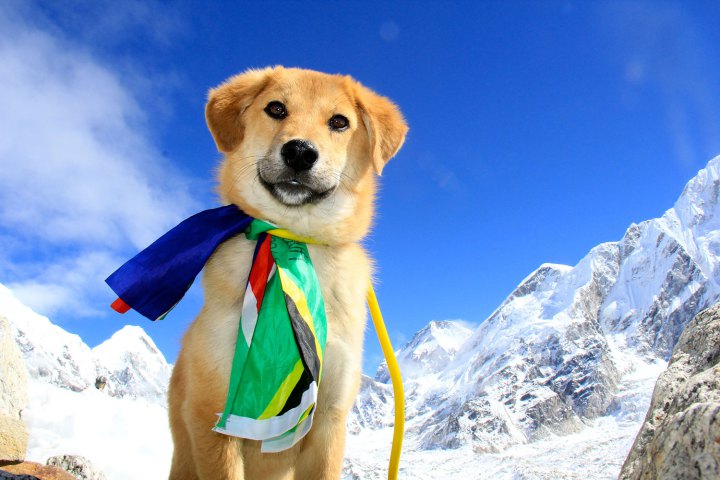 Rupee was rescued from a dump when he was only eight months old and barely clinging to life. Now the rescued dog has accomplished something that no other dog is known to have achieved. Rupee, along with his rescuer Joanne Lefson, climbed Mount Everest.
Rupee was found by Lefson at a dump site in Ladakh, Northern India. He was dying of dehydration and starvation, but with Joanne's help he was nursed back to health.
"When I saw him on that dumpsite he couldn't have had more than an hour to live," said Lefson. "He couldn't even walk 100 feet without collapsing."
Lefson took Rupee in and fed him a high protein diet and helped him gain his strength back.
Once Rupee was healthy Lefson wanted to take Rupee on an adventure that she had originally planned for her previous dog Oscar. Lefson and Oscar had made headlines for travelling all over the world to famous landmarks. Oscar and Lefson travels became an internet sensation and they used their fame to promote finding homes for stray dogs.
As part of their world adventures Lefson had hoped to make an expedition to Everest. Unfortunately, Oscar passed away this January.  Lefson wants to continue Oscar's journey and honor his legacy with Rupee.
"Oscar will never be replaced and it's been difficult trying to pick up the pieces, but the one thing that keeps me going is honoring his legacy and working towards the day when every homeless dog will have a forever home," said Lefson. "Rupee is simply an extension of Oscar's legacy and a fine example of what can be achieved when a homeless dog is given a second chance."
Lefson had Rupee checked out by his veterinarian. Rupee's vet gave Rupee the go ahead to go on the expedition. Since Rupee was born in the Himalayan region the veterinarian confirmed that he would not suffer from altitude sickness.
Rupee and Lefson traveled to India, where they first made a stop to visit the famous Taj Mahal before heading out on their expedition. Lefson, Rupee, film maker Dev Argarwel made the trek along with porters and guides. They reached Everest Base Camp in just ten days.
The trek was grueling, but Lefson took extra precautions to make sure Rupee would be ok.
"My greatest concern was wondering if Rupee could actually make it," said Lefson. "I prepared for the worst and arranged an extra porter just in case Rupee needed to hitch a ride."
Rupee though seemed to love the experience, especially playing in the snow.
"He played in it at every opportunity, chased it and even tried to chew it at times," said Lefson.
Rupee is the first ever recorded dog at base camp. His accomplishment represents what amazing thing rescued dogs can accomplish when given a second chance.