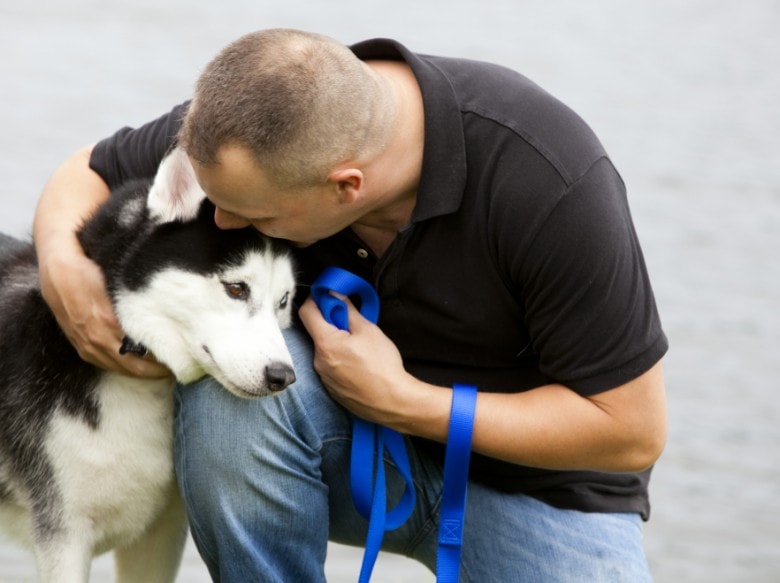 The moment that George Little saw Dodge's sweet, fluffy face, he knew he had to have him. The retired Marine has always had a soft spot for huskies, so when the cuddly-looking dog came up for adoption, George jumped at the chance to have a new family member.
"It started when I saw his picture on the computer, just sitting here in my house," he said. "I was told that I could meet him at a PetSmart location two days later. As soon as I pulled into the parking lot, I pretty much saw him out of the corner of my eye and knew."
The papers were signed almost instantly, making Dodge the five millionth pet to be adopted through PetSmart Charities.
It's been a year since the adoption, and the pair are as close as can be. Dodge was saved from a life in a shelter, but he's helped his new dad in return. George had been a sergeant in the Marine Corps, and was traumatized by his experiences during several deployments.
"A lot of stuff I experienced over there was not good. I saw a lot of people getting hurt and killed," George explained. "There was very little downtime, between going to missions and going to funerals. You'd go to dinner with those guys. You'd wake up and go to breakfast, and a few hours later they wouldn't be here."
War changes a person, and dealing with the past has not been easy. Dodge has been a constant companion and a comfort to George. The buddies attended a Memorial Day gathering, and sensing that his support was needed, Dodge stayed right by George's side.
"In my life, the only unconditional love I'd ever gotten in my entire life has been from animals," he said. "And Dodge has been all that and more for me. If I have a hard day, he senses it. He's right by my side."
They became a bit of a sensation as the five millionth adoption, and Dodge is still recognized when they go out together.
"When I bring him into PetSmart, everybody's like, 'Oh my God, it's Dodge!'"
George says that he could have gotten a dog from a breeder, but knows how important it is to adopt.
"I think a good thing for everyone to know is that adoption is the way to go. Adoption, to me, they just seem so loving. I don't know why. Maybe it's because they sense they're getting a second chance," he said.
Taking full advantage of their second chances, George is in the process of trying to become a police officer, and would like to have Dodge trained to be a therapy dog.
"It's been amazing, just seeing him happy. When I first got him, he was very skittish, but now, it's like he enjoys absolutely everything. It's nice to see him go from where he used to be to what he is now."