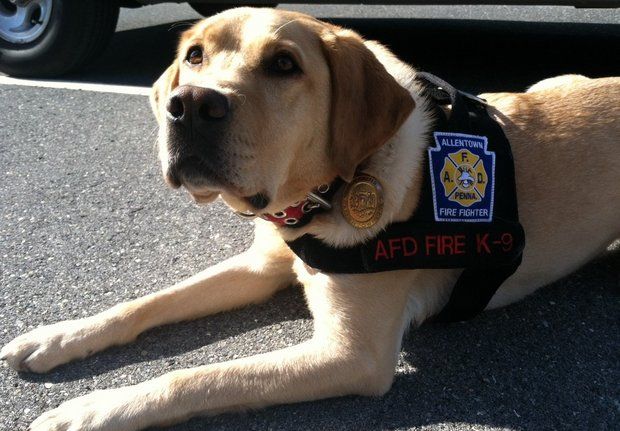 Thanks to the arrival of a friendly yellow Lab named Judge, Allentown, PA's arson rate has fallen a whopping 47% in the last two years. He is one of only four accelerant detection dogs in Pennsylvania, and because of his good work, more dogs like him may be utilized in other parts of the country.
Judge has been specially trained to sense accelerants, so if something like gasoline or kerosene is used to start a fire, Judge will know. Allentown Fire Department Assistant Chief Lee Laubach says this helps deter potential arsonists, and helps put people who have intentionally started fires in jail.
This dog's sniffer is so sensitive that he can identify 61 accelerants. Less than a drop of gasoline – 0.2 milliliters – is enough to grab Judge's attention. This is important in helping find people who are setting even small fires to commit insurance fraud.
Together, Judge and Laubach have been involved in over 200 fire investigations, and have seen charges brought up against 8 arsonists, according to department Lieutenant James Kutz. Judge can find traces of accelerants quickly and more efficiently than his human counterparts, which allows Laubach and other investigators to spend more time collecting evidence and interviewing witnesses.
"It's definitely a team effort," Laubach said of his coworker, who lives with his wife and their two golden retrievers. "He goes everywhere I go, for the most part," he said. "If we go on vacation, he goes on vacation."
Recently Laubach and Judge helped catch two men responsible for setting a factory ablaze. The men later admitted to setting other fires.
"Judge is a valuable asset," said Kutz. "Since he's been around, arsons are down."
In February, Kutz founded Hounds on Working Leashes (HOWLS) to help raise money for Judge's specialized equipment. A harness was purchased to lift Judge up to upper levels of buildings when the stairs have been destroyed. The next goal will be to acquire a cooling vest that will allow the dog to work safely on hot days.
Judge must be bathed after every investigation, and South Whitehall Township's Woodlawn Fire Department donated a wash tub for him. Cummings Veterinary Hospital in Bethlehem Township treats him for free, which is a load off the expense list, as he requires monthly check-ups.
Laubach and Judge spend some of their free time in schools to teach kids about fire prevention and safety.
"When I go to fire prevention programs, he's very receptive to children. That's one of his biggest assets," he said. "They pay attention more when Judge is there."