If you regularly follow Life With Dogs, you may have seen Pennsylvania artist Tom Mosser's famous work, "A Golden Retriever at the Museum." We featured the story about it back in June after the photo of his painting of his dog Lucas, intensely focused on a painting of a tennis ball, went viral in early summer. Now he has been so kind as to give us the exclusive web unveiling rights to his newest piece, so you'll see it before everyone else!
People absolutely loved the painting of Lucas, seeing their own pets reflected in the candid portrayal of a dog doing exactly what one might expect him to do if taken to a museum designed especially for his kind.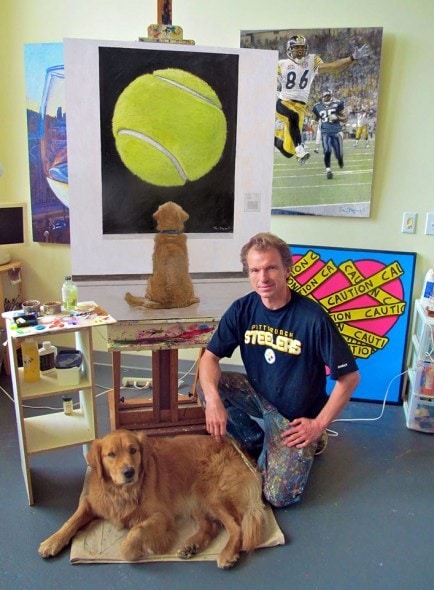 "We started getting messages and emails. People, some of them, were very emotional about it. They had lost a dog within the last year, (and it) reminded them of their dog," said Mosser. "It covered all gamuts; men, women, countries, people from Thailand, Turkey, Australia."
His newest work involves shelter dogs, and is entitled "Rescue Dogs at the Museum." The unveiling will take place Tuesday, September 3 at 1:30 pm eastern. For the first 30 days after the unveiling, $100 for every print sold will be donated to four voter-selected pet-related charities. The goal is to sell 200 pieces, so $20,000 can be donated.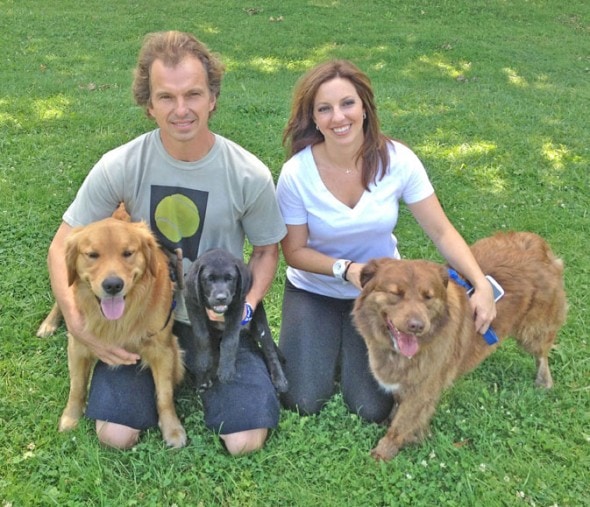 The painting is similar to the last one, with Lucas entranced by the giant tennis ball, but this time he is joined by six others, five of whom are currently staying at the Animal Rescue League Shelter & Wildlife Center in Pittsburgh. The last is a pit bull found with frostbitten ears on a highway.
Mosser and his boy do lots of charity work, and most recently, Lucas fetched $1,700 at Goldstock, a golden retriever-oriented campout (going on all this long weekend) that raises money to help rescues.
"I think it is wonderful and amazing that the first two Lucas paintings in this series went viral," Mosser said. "But with the third painting especially, we have an opportunity to take advantage of that viral phenomenon and raise a lot of money and awareness for the charity groups with the sales of the prints and T-shirts globally.  A truly gratifying win-win situation, and I am so proud to be a part of it."
To order a print or a t-shirt, please email Mosser's publisher at [email protected].
For more information or to see more of his work, please visit Almart Fine Art, Tom Mosser, and A Golden Retriever at the Museum.
And finally… ta-da!