Angels Among Us Pet Rescue staff really are angels – they find and save Georgia dogs from the most deplorable conditions and from shelters with the highest kill rates, and get them in shape to be fostered and adopted. Take a look at and read the stories of some of these babies to see if you or anyone you know might be interested in the perfect friend.
Joseph – Well I am happy. It is just who I am. My parents were Goldens and who knows. I think people are upset that I will not be here tomorrow and that I could die with a smile on my face. Some of us are born happy. We die that way too even when we should be so very sad. I need your help today! I need a foster to save my life (in Atlanta) and I need donations for my vetting. I need you now. Please keep me smiling. I know I can put a smile on my forever family's faces! Love Joseph. www.angelsrescue.org to foster and donate.
 Hear my story. My face shows my fear and distress. My family decided they no longer wanted me around so they locked me in a crate and put me in the basement. Then they didn't even want me there so they handed me off to another family that kept me locked in a closet. I was so scared. The children I lived with pinched and kicked me, and they all called me such horrible names.
But a miracle has happened. I was saved from a place of darkness. What a change from just a day ago. An Angel heard about me and my situation. She decided she wouldn't stop until she got me out of that place. This lady is my Angel. She tells me how handsome I am and that I will be loved again. I come with lots of love but no medical care and no foster home. Can you help me? Maybe you'll think I'm so handsome you'll want to foster me too or donate for my care? I am a sweet boy, I promise. I give kisses and snuggle and I don't know why I wasn't wanted. I am willing to forgive these humans in hopes for a loving home. Will you help me by fostering and donating? My name is Amor…  www.angelsrescue.org
They caught me and pulled me with a catchpole. Guess I have no dignity left. I am in a kill shelter and today will be the last day I gaze into the humans eyes that I so adore. I shouldn't I know. Humans have not loved me. You see I am a golden retriever girl mixed with something beautiful. The only way I will be safe is if you can foster me!! All the fosters at Angels are completely full. I need a foster home in Atlanta. Angels will pay all the bills for my vetting and you just feed and help me feel whole again. Please help this kind rescue pay for the vetting that my human didn't do. My name is Lanna Gold. I want to feel loving hands on me again. Please help me. Foster me and donate to my spay and vaccinations at www.angelsrescue.org. Thank you.
Hi, I'm Kid Rock and I am so much happier now, happy to be an Angel but looking for my forever spot! You see, my owner recently passed away and there was no one to take care of me. This was a very scary and sad time for me. I was on my way to a rural Georgia kill shelter when an Angel showed up and saved me. The Angel told me that because of kind people like you I received the proper vetting I deserve (I was recently neutered so no puppy mama drama for me!). I am staying with a foster family now but what I'm really looking forward to is a family of my own. I'm a well behaved 1 yr old chiweenie. I'm a small guy weighing in at 10.5 lbs. My foster mom says I'm laid back and quiet and don't have an aggressive bone in my body. I love to play outside and enjoy walking on a leash. I get along well with other dogs but I haven't met a cat yet. Because of my small size, sometimes small children make me nervous. Please give me a chance to win a place in your heart. Apply now at www.angelsrescue.org/adopt
URGENT!! PREGNANT MOMS IN THE COLD! DUE ANY DAY!! We have good news and bad news. Alara was able to find a foster and has some donations. That is the good news. The bad news is her sister still has no one. Aria needs sponsorship for herself and her unborn babies. Alara's pups will be born in a warm home thanks to a caring foster stepping up. Thank you Nikki! We are saving her tomorrow from living outside and don't want to leave her sister Aria who is also pregnant out in this frigid weather. How can we save one and leave the other behind?? It's heartbreaking! We are begging you to foster Aria in Atlanta area. We pay all vetting. -Tiffany (Atlanta)
Please be generous to these 2 pregnant sisters. Go to www.angelsrescue.org/donate to donate to vetting and please, please fill out foster app www.angelsrescue.org/foster
Hello world! My name is Pedro. I am a Whippet/Terrier mix, approximately 3 years old. I am such a sweet and affectionate boy. I love to play with my foster brother Tate who lives in the house with me. I love to snuggle when it's cold outside and love hugs and kisses!! I was with my family until I ate part of a sock and had to have surgery. Afterwards, they decided they didn't want me back. I don't understand why. I'm not a bad boy; I'm just curious and get bored easily so I need someone to play with me often. I am a perfect size at about 30 lbs. I am housebroken and working on crate training. I am great with other dogs and children, but I have never been around cats. I am looking for my forever home! Could you give me one? Email inquiries to my foster mom at: [email protected] or apply to adopt me at: www.angelsrescue.org/adopt
URGENT! We are at the shelter picking up Joseph and Lanna Gold and this boxer mix puppy is kenneled with Lanna Gold. Look at this precious face. We cannot leave her behind and alone to die. Must have a foster and sponsorship for her!!! Please act swiftly and help us save another life today!!! www.angelsrescue.org/donate and please email [email protected] if you will open your home to her!! We will update as soon as we are able with freedom rides!-
My name is Grace… My family had to move quickly and I was left outside. I have what is known as demodex and I have little fur. Seems my friend, the other family dog, didn't have this, but I do. It is really itchy but very treatable. I am not contagious at all. Just makes me look and feel bad. Angels tells me I need a foster in order to become one of them. I love everyone and all dogs… I was just not lucky enough to be born a pretty fluffy dog I guess. Angels tells me they will try, but can't promise. Could you take me in and foster me while I find another family? I promise to be the perfect dog if you give me a chance. They will take care of all my medical to take care of this skin stuff… Thank you for your time… www.angelsrescue.org/adopt
Hi humans, my name is Silas. I am a young golden. I look around every day for my family but they never come. I am in danger!! This is a rural kill shelter. Nobody loves me. The bad thing about us goldens is we are so sensitive and we feel everything. I want to lie down because I am tired, but I am afraid to miss my family's faces. *Sigh* I am also one of the most intelligent breeds of dogs so I know I am alone in this world. Can you please foster me? Then I get a real family of my own. I will grow old and they will have a painting done of me and talk about me to everyone they know. I need to ask an embarrassing question, I need vetting donations to neuter me and get shots and chip and the stuff people do when they love their dog. I will stand here and wait for Angels to get me with your help. Please foster in Atlanta and donate at www.angelsrescue.org
OUCH! The shelter named her "Smiles," but today she grimaces through excruciating pain, even though in her heart, she wants to smile. This precious sweetie suffered trauma to her knee in her prior life (we don't want to think about how that occurred!), and now her kneecap keeps popping out of place, rendering her unable to walk. We can tell, and our vets confirm, that surgery is the only viable option. Pain meds just aren't cutting it. We are YOUR agency and we sometimes take the dogs with very challenging cases like his. We believe Smiles deserves a better quality of life and we want to offer it to her because we know she will offer her future family a life of love and loyalty. But she needs surgery. TODAY. Surgery will cost $2,000. We use only the best surgeons, and her procedure is extremely complicated because of her small size and delicate stature. Donations to this surgery are tax deductible, as AAU is a registered 501 (c 3 organization. Individuals, families, companies, foundations, schools, community groups can ALL work together to save a life. Help us turn this dog's frown upside down and give Smiles a chance to grin once again, pain free! Donate generously and quickly…www.angelsrescue.org/donate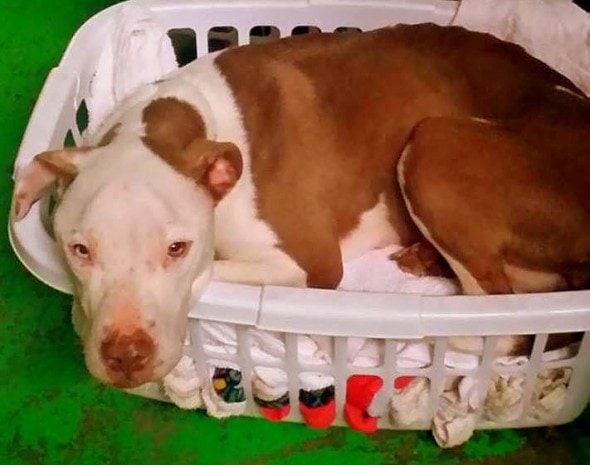 Mirabelle was rescued over a week ago and has already gained over 6lbs!! She is a fun loving sweet pitty that will be a healthy 45-50 pounds better known as a "pocket pitty"!  Mirabelle will be available for adoption soon and would love a family! She is a sweet very calm girl but loves to play! She carries her toys and even loves to hold her leash to take herself for a walk. Be prepared for more videos to come! (Her foster mama loves to take a lot of them). For now, feast your eyes on Mirabelle dancing for her food. She's just so happy that you all saved her and there her foster mom is smart enough to not to believe the negative things she's read/heard about one of the most misunderstood breeds in the world. To apply to adopt Mirabelle please go to www.angelsrescue.org/adopt
https://www.youtube.com/watch?v=578qFeqPEjc&feature=youtube_gdata_player
Take a look at them today. Happy, loving, healing, smiling, snuggling. This is because their advocate fought for them when she could have stayed silent, the rescue said yes when others said no, the transporter went right away instead of saying he was busy, the post team posted immediately instead of waiting, you guys donated, shared AND somebody applied to foster!! These lives, even with their faults, were worth saving and were saved b/c a whole bunch of people decided NOT to look away. We all decided to do SOMEthing, instead of NOthing. Because of a whole bunch of people, most of which will never even meet these two amazing souls, Wilford and Russ can exhale and relax, and get better, and become healthy, loving adoptable pets!  Foster mom Mealnie reports:
Wilford is 46.4 lbs – tan/white pit bull mix. Not sure of age yet. He is the calmest, sweetest laid back old soul I've ever met.
Russ is 24.6 lbs – black/white pit bull mix – again not sure of age yet. He is the one with mange and healing quite well. He is all little boy and puppy through and through. Affectionate – playful – sweet as the day is long!
To find out more about these two amazing pups, email [email protected] or apply for www.angelsrescue.org/adopt
Check out a video of how sweet and attached these boys are… makes me melt!! http://youtu.be/bXId_WdOIp4
HI! My name is Shaley! I am a very happy girl now, but I was not always this happy. You see, I had a baby while I was in the animal shelter, but my poor puppy never had a chance, he was stillborn. I cried when they would not let me stay with my baby, they told me Angels were there to take me to a happier place. It took me some time before I was myself again. I love to play and be a puppy myself. My foster mom has shown me how to cuddle, which seemed odd at first, but it did not take long before I enjoyed curling up next to her. I love playing with kids and dogs my size. I also love to chase cats but my foster mommy is trying to teach me that that is not really a good thing, but I just want to play. I am more comfortable with dogs that are around my size, big dogs make me nervous sometimes. I know how to sit, shake, and even high five. I do not mind being in my crate but if you want me in there it comes at a price, treats! To apply to adopt Shaley please go to www.angelsrescue.org/adopt
Who's looking for the perfect family addition? This here is Tallulah and she's your girl! Still a playful puppy at 1.5 yrs, 35-40 lbs fully grown, crate and house trained, great with kids, dogs, cats and men!! Spayed, microchipped and healthy. She would love a home with another fur sibling to play with and human parents to snuggle and love her. Tallulah enjoys long walks and car rides! If you'd like to know more about Tallulah please email [email protected] If you are interested in adopting Tallulah, please fill out the app at www.angelsrescue.org/adopt
Smudge is a very loving 3 year old Rhodesian Ridgeback & Catahoula Leopard Dog Mix , he is full grown at 65 lbs.
The breed mix sheds very little and requires only weekly brushing. Both breeds are loyal, loving and protective of family, and get along with all humans and other pets including children. They make excellent inside dogs, as they are very quiet, love to cuddle and do well with either walks or daily runs in a fenced yard. Smudge is about 95% house trained, he still has a pee accident occasionally, but no poo accidents. Smudge is called Samson by his foster mom because he overcame great difficulties and is looking for a family to love him forever! If you would like to know more about Smudge, please email [email protected] If you would like to meet him, fill out this adoption application now www.angelsrescue.org/adopt
URGENT! This beautiful 1.5 year old, blue Great Dane needs us NOW! She is scared and sick and needs us to rescue her right away. We need at least $150 in donations, but it is obvious that she will need additional meds/vetting so please give generously for Gentilly! If you are in the greater Atlanta area and can foster this sweet gentle giant, please apply at www.angelsrescue.org.
We couldn't save Callen in time, but we CAN save this beautiful lab named LISSA….I'm still trying to piece myself back together after hugging Callen goodbye as he crossed the rainbow bridge. Today, another lab needs us JUST AS MUCH who we CAN help. Her name is LISSA and we pulled her from a kill shelter outside Atlanta. Poor Lissa smiles through excruciating pain; she has an IMPACTED BOWEL that is caused by a severe rectal hernia. Vets have tried everything to comfort her, but the only solution is surgery which will cost thousands. Her vetting bill is already at $5K and this is BEFORE surgery. Few groups would take on such an expensive case, but labs like Lissa make amazing, life-long family pets, and the vetting teams feel comfortable that with this surgery, she will be the epitome of perfect health and will live many happy years in a forever home. We want to help Lissa and give her the relief she wants and needs. She is a perfect dog; she knows commands, is smiley and aims to please. But she cannot continue in her current condition and must go into emergency surgery or her prognosis is iffy. She's stopped eating and drinking because her pain has superseded her pain meds. She needs surgery NOW. Please help her and give this lab a chance at life and love. Donate as an individual. Donate as a family. Ask your company to make a tax-deductible gift, or match yours. Give this dog a chance! So many other dogs will die today at the hands of folks who don't care or because of pet overpopulation. Please show you DO care and donate swiftly and generously to "LISSA – EMERGENCY SURGERY." www.angelsrescue.org/donate. Thank you
Crespo is a sweet 2-3yr old schnoodle girl. She loves nothing better than spending time with her humans. She is house trained, and crate trained and lives with cats in her foster home. She would rather be the only dog in the house and has so much love to give to the right family. If you are looking for a low shed sweetheart please consider Crespo. www.angelsrescue.org/adopt

Lange is a Dachshund, reddish black, adult (not sure of age yet), needs to be spayed and weighs in at about 15 lbs. We need vetting donations (at least $150.00) and a loving adoptive home www.angelsrescue.org/donate/ or www.angelsrescue.org/adopt – mhh Atlanta, GA
Cutie Pie is expecting puppies within the next couple of weeks. Fostering moms and pups are a huge burden on our foster families financially. You can help make fostering puppy families easier and more desirable for future fosters by donating puppy supplies from our wishlist. Items like wee wee pads, playpens, toys, supplement milk (just in case!), detergent & bleach are needed desperately. You can view our Angels Amazon wishlist on http://amzn.com/w/2T3MI3FNIYYZM. Check on the progress of Cutie Pie on the Puppy Cam www.badferret.net/puppycam/
UPDATE ON THE THREE SPANIELS WE SAVED ON FRIDAY: All three are a complete mess. They are ALL heartworm positive. Halle (top) also has pneumonia. Thandi (bottom right) has ear damage from getting attacked by another dog, so she's still at the vet on pain meds and antibiotics. Turns out the bottom left Spaniel was a boy and not a girl, so his new name is Netley. He has kennel cough, as well. Given all of their medical issues, we need more funds to treat them (particularly for heartworm treatment). Would you be so kind as to donate to help us? We can't keep pulling more dogs until we raise the funds to treat our existing ones. On top of all their medical issues, they are also extremely unsocialized. None of them know what a leash is, and two of the three are fear biters. They are going to need a lot of love and patience, lots of medical treatment, and possibly some in-house training. Please donate to help them: www.angelsrescue.org/donate to the "3 spaniels."