Running together is a fantastic way to bond with your dog while also getting tons of exercise in. However, it can be extremely dangerous if you don't have the right leash.
I remember when I first started taking my dog out for runs. He was too young to understand the heel command fully & didn't have great leash etiquette. So, I was often yanking on his collar to get him out of harm's way.
This was when I understood that a high-quality leash is equally as important as good training. The leash should be durable, slightly elastic, and comfortable.
Top 6 Dog Running Leashes Reviews
1. Impact Dog Collar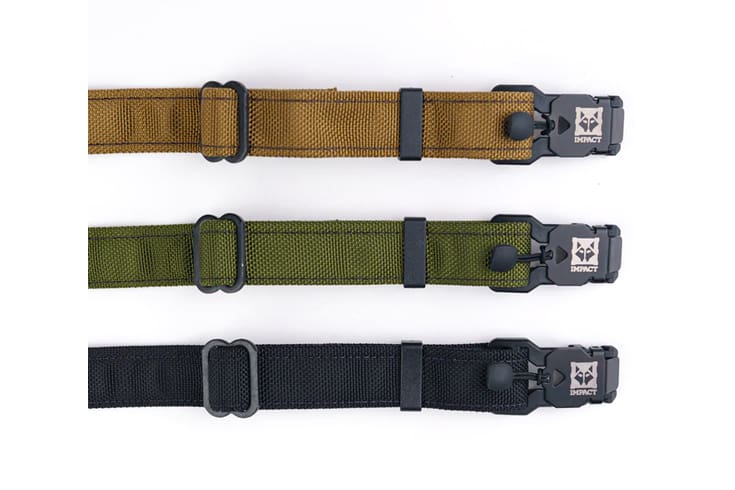 Military-grade resilient nylon
2 comfortable loops
Durable metal hardware
Although this lead is a bit more expensive than the other options, I believe it will last a long time thanks to its superior quality.
This comfortable leash is made of a high-quality material known as chew-resistant ballistic nylon that won't fray, even with consistent use.
So, you can use this leash for your daily runs, regardless of how big your pooch is. The loop of this leash is made with a runner in mind. It is extremely comfortable & you can hold on to it for hours without cutting off circulation in your hand.
Plus, if you go out for runs in the wild, you know how many distractions your dog can come across. So, it's essential to have a way to pull your dog back, just for peace of mind.
This lead has a unique 2-loop feature that allows for quick shortening. This is great if your dog is about to lunge somewhere dangerous, and you need to stop him immediately.
The hardware of this basic running leash is super durable. It is a steel, carabiner-style clasp that won't snap during your trail adventures.
However, this leash's price runs a little higher compared to other options. Plus, there aren't many color variations available.
Also, since the length of this leash is made of nylon, there isn't a ton of elasticity, which can hurt your dog if they tend to lunge. Therefore, I recommend this lead only if your dog has decent leash etiquette & doesn't constantly pull on their lead.
Military-grade resilient nylon gives you complete control over your pooch
2-loop feature allowing quick shortening in case of emergencies
Ergonomic handle that won't cut off blood flow during long walks
High price compared to the other options
Very limited color selection
Durable metal hardware
Low elasticity
2. Diggs Dog Leash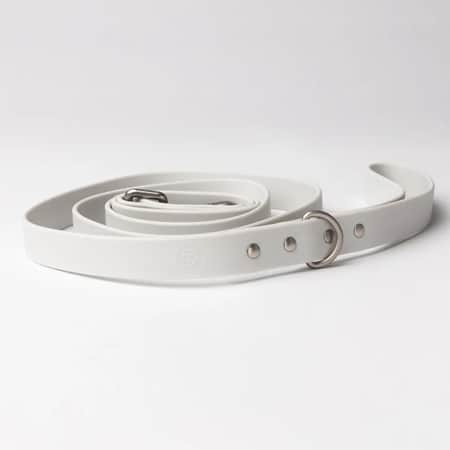 Made of soft-coated nylon
Easy-to-clean, odor-resistant, and waterproof
360-degree swiveling hook
This is the best lead option if you're a super outdoorsy trail runner.
This leash by Diggs comes in 7 color options, which means you can definitely find the best one that suits your canine's style. Plus, there are 2 size options, so you can decide how much leeway your dog has on your runs.
The first is 4 feet, which is perfect for smaller breeds & the normal size is 6 feet, which is ideal for larger dogs like Huskies & German Shepherds.
The lead is made of soft-coated nylon. Not only does this provide you with a little bit of elasticity, but it also won't chafe your dog's neck or your hand.
The light loop is also easy to grasp for long periods of time.
However, what makes this leash stand out is how easy it is to clean. It has a 100% waterproof coating; plus, it is also odor-resistant & easy to clean.
Therefore, we think this is one of the best leashes for running aficionados who love to explore the outdoors with their pets.
The matte metal hardware is also super elegant yet very resilient. It has a 360º swiveling hook, so you won't have to stop sprinting to untangle your canine companion. There is also a D-ring for additional accessories, like a poop bag dispenser or even a water bottle holder for your trail adventures!
However, there were a few customer complaints about the light-colored leashes. Some stated that they tend to stain easier, especially if you constantly use them outdoors. Others complained that puppies can chew through the nylon fairly easily.
Also, these leads, especially the 6 feet versions, can be a little heavy if your dog is under 10 pounds.
Variety of 7 color and 2 size options
100% waterproof, odor-resistant, and easy to clean
360º swiveling hook, so the leash doesn't get tangled
Very affordable price
Customer complaints that the lead is a bit heavy
Light-colored leashes tend to stain pretty quickly
Puppies can chew up the leash easily
3. Fable Magic Link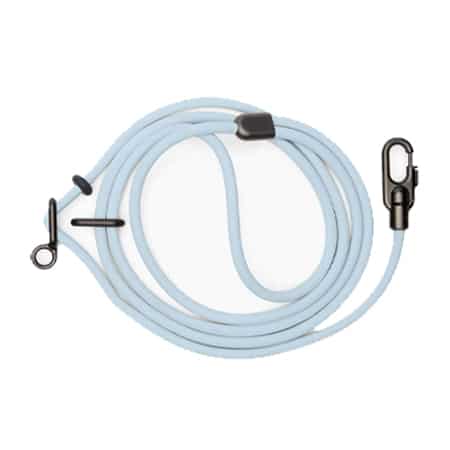 9 color options & 2 size options
Magic clip feature becomes a belt, bandolier, or wrist strap
Security clip to avoid accidents
If your main concern is having empty hands while you're out for a run, this is definitely the leash for you. The cool feature of this product is the Magic Link design, which allows you to wear it as a belt, a bandolier, or just around the wrist.
This is perfect for runners; there may be some days when you have to hold your water bottle & don't want to bother with a leash around your wrist. Plus, if you have a larger, more powerful pooch, wearing it as a bandolier means they can't pull you around as much & you can keep your dogs under control.
Plus, you can also choose from different attachment styles on your dog's collar. You can make it a fixed leash/collar, a conventional leash, or a slip-on. This lead is super versatile, so you're bound to find a leash setup that works perfectly for you.
Another unique aspect of this lead is the security clip, which prevents the lever from being accidentally pushed down. This is an all too common occurrence while running, which may prove fatal in some situations. So, it's nice to have that peace of mind that the clasp won't unintentionally release.
The only drawback of this leash is that it is a bit more expensive compared to the other options. But since you can change the style to whatever you want, it's like 6 leashes in one! So, we definitely think it's worth the investment.
Magic Link design means you can choose from 3 attachment styles & 3 loop options
Wide variety of colors
Security clip prevents accidental unlocking
A bit pricier than other options
4. iYo Shop Hands-Free Dog Leash
Reflective threading with 10 color options & 2 sizes
2 quick shortening handles & 2 bungee cords
Removable zippered pouch & D-ring for extra storage
If you are looking for a leash that has everything you could need for your runs, all in one, this is definitely the choice for you. This hands-free dog running leash has a ton of cool features that are a godsend for any Canicrossers.
First, the basic running leash attaches around your waist or around your wrist. This gives you tons of options depending on how long your run is & how much stuff you're carrying. There is also a removable zippered pouch where you can keep essentials like your phone, keys, or a small water bottle.
This bungee dog leash also has 2 quick-shortening handles. This provides the perfect amount of safety & lenience for your pooch.
The loop has an extra cushion layer that provides you with a little extra comfort, making it a suitable leash for long walks. There is also a D-ring that you can use for extra clip security and for hanging other walk essentials like a poop bag dispenser.
This comfortable leash has 10 color options & 2 sizes with reflective threading in each one. You will definitely be able to find the perfect one for your pooch.
However, there were some customer complaints about the zippered pouch. Since it isn't attached to the lead, it tends to wiggle around your waist. Plus, the zipper sometimes comes undone while running.
Also, you can't adjust the belt, so it may be too big or too small for your waist.
Super affordable
Reflective threading with 10 color options & 2 sizes
2 quick shortening handles & 2 bungee portions
Removable zippered pouch
The zippered pouch is a little unsteady & may come undone
The belt doesn't adjust – often runs big or small
5. Surf City Pet Works Bungee Leash
Thickly padded ergonomic wrist loop
Tangle-proof bungee cord
Reflective stitching & LED light
If there's one thing I hate about walks, it's constantly having to stop & untangle my pet's lead. However, you won't have to worry about that with the Surf City Pet Works Bungee leash.
This quality leash has a unique corded bungee design, much like the wiring on headphones. This design ensures the lead won't get tangled when it drags on the floor, meaning you'll have to make much fewer pit stops.
The lead has reflective stitching & an in-built LED safety light for maximum safety. It also has a velcro poop bag dispenser.
The handle of this versatile leash is thickly padded to prevent wrist pain during long jogs.
The metal hardware swivels to prevent tangles. It is also corrosion-proof & durable, making it perfect for challenging trail users.
However, there were a few complaints that the lead runs a bit small & it isn't suitable for more inquisitive pups. Moreover, the dispenser tends to come off because the velcro isn't that strong.
Thickly padded wrist loop
Unique tangle-proof corded design
Reflective stitching & LED safety light
Bit pricier than the other options
The dispenser bag tends to come off
The leash is slightly short
6. Neewa Shock Absorbing Bungee Leash
High-quality shock-absorbing bungee cord
Durable & reliable material
30-day return or exchange warranty
A bungee leash is a fantastic option because it protects your joints from sudden movements you or your pet make. This is especially great if you have shoulder or back problems.
The Neewa Shock Absorbing Leash is one of the best bungee leashes on the market. The lead is made of a high-quality bungee that will protect your joints without putting too much force on your pooch.
This is the ideal leash for running on challenging trails, where you need to keep your dog's movements controlled & close to you.
This versatile leash was made with racers & runners in mind, so it is super durable & heavy-duty.
Neewa also offers a 30-day return or exchange warranty, which is great if you're worried about the quality of the product.
One thing to keep in mind is that this is a shorter leash, so it may not be ideal if you would like to give your dog tons of freedom. Also, it's a little hard to control your dog's movements quickly because of the bungee mechanism, so it may be dangerous for dogs who lunge while on walks.
High-quality bungee cord lessens damage to joints
Durable & reliable build
30-day return or exchange warranty
The leash runs a bit short for larger dogs
Hard to quickly correct dog's movement – no shortening handle
Commonly Asked Questions
What is Canicross?
Canicross is a specific type of running with your dog, where your canine companion is attached to your waist. It is a little easier to control your dog with a waist/hands-free dog leash. It's also called "urban mushing" because your dog is pulling you instead of a sled. It's a great way to keep larger dog breeds in shape throughout the year.
Is it safe to run with your dog?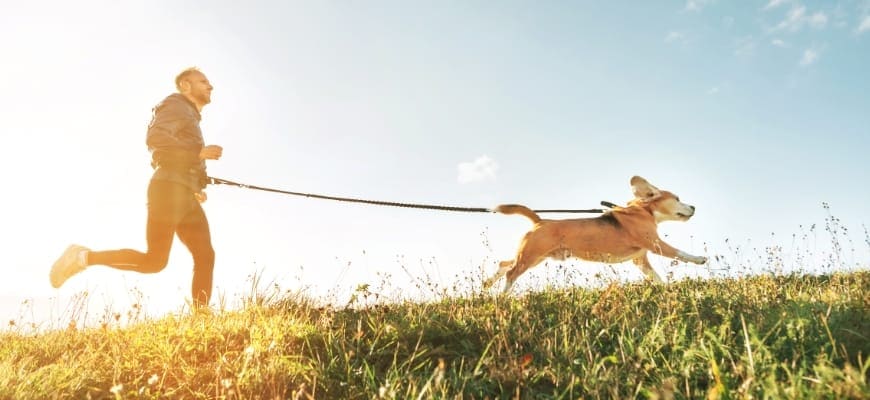 Yes. Dogs are athletic creatures, and it's fantastic for them to run as a way to get exercise. However, some things to keep in mind are that they are sufficiently hydrated to prevent overheating, they are fully healthy & don't have any orthopedic ailments, and they are fully grown.
Also, you may want to consult your vet before taking your pup out on a run if he is a brachycephalic breed.
What should dogs wear for running?
Dogs don't need any particular clothing for runs. Make sure they have a comfortable harness, so they aren't being choked every time you pull on the leash. A harness that lights up is ideal.
Also, if you tend to run in the snow or very rough terrains, consider investing in some shoes to protect your dog's sensitive paws.
How do I stop my dog from pulling when running?
Leash pulling is super annoying, especially when you are trying to run longer distances. The most important thing is ensuring your dog has great leash etiquette.
Your pooch should know the "Heel" command by heart, & you should be able to quickly divert his attention while facing a distraction.
Always keep your dog running close to your body. If your dog starts lunging, stop walking, give a sharp "No!" command, & turn around. Your pup will soon understand that if he yanks on the lead, he won't be able to get where he wants to go.
The good thing about running is that I've noticed that my dog pulls much less. Since he is going at a faster pace, he has less time to get distracted by all the sights, so he lunges much less.
How much can a dog run daily?
This is dependent on your breed of dog.
Some dogs are built for quick sprinting, such as Greyhounds. They tend to be a little lazy other than 15-20 minutes of daily vigorous activity, so they won't be able to run as far.
However, there are some dogs, like Labrador Retrievers or Border Collies, that can run at least 5 miles in one go. These dogs are better for distance runners.
On the other note, if you want to bring your two dogs on walks or running, you can use a leash best suited for two dogs.
Conclusion
In conclusion, we have found that the best dog leash for running on the market is the Impact Dog Leash. This lead is made of super heavy-duty nylon & has durable metal hardware that will last a lifetime. The 2-loop feature is also great for quickly shortening the lead when you're out for a run.
Coming in second place is the Diggs dog leash, just because of how easy it is to take care of. It has a soft, waterproof, odor-resistant, easy-to-clean coating that makes it perfect for pet parents who love to hit the trails.
Running with your dog is a fantastic & safe way to get some exercise in and bond with your pet. Make sure you have all the right supplies, including the perfect leash!
If you have any dog-walking suggestions, please leave a comment down below.
Thanks for reading!