Owning a puppy or small dog means that you'll be taking lots of walks (or running around your backyard) together. So, it pays to invest in a good leash – one that's comfortable and secure enough to keep your pup safe but also allows them the freedom to explore.
But with so many options out there, where do you start? Don't worry! This guide is here to help you find the best leash for puppies.
Top 5 Best Leash Reviews For Puppies
1. Impact Dog Leash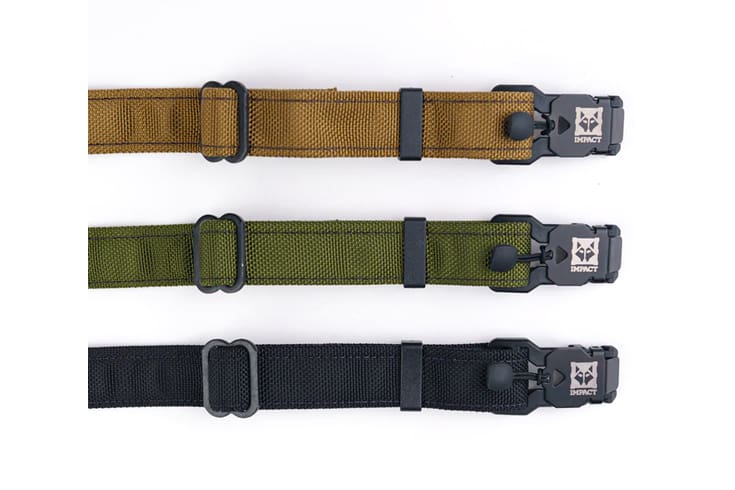 Heavy-duty materials
Durable
Comfortable to use for walks
When I'm on outdoor adventures with my four-legged best friend, I like to have peace of mind that they are safe. That's why I chose the Impact Dog Leash as my number one pick.
Crafted from a heavy-duty ballistic nylon dog leash, it offers the greatest strength and durability along with a comfortable loop handle to guide your pup through trails and parks without worrying about it tugging or breaking.
• Heavy-duty materials
• Durable
• Comfortable to use for walks
• Can be difficult to handle
• Clip can be difficult to open when new
2. Diggs Nylon Dog Leash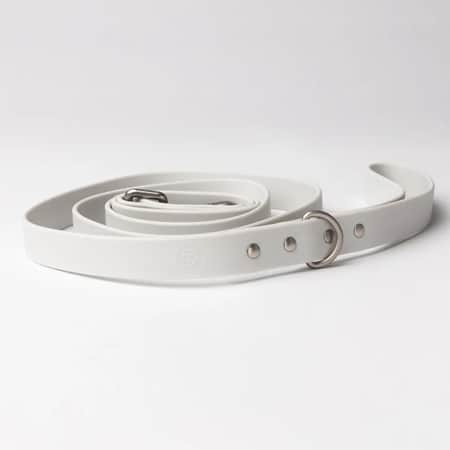 Soft-touch nylon
Waterproof
Durable
I'm always on the lookout for products that are both useful and stylish, which is why I love this dog leash! Not only is its soft-touch coated nylon waterproof, providing excellent grip and reassuring durability no matter what life throws at us, but it's also easy on the eyes.
With gorgeous matte metal accents, we can enjoy all the practicality without compromising on style. Plus, it comes with a Harness Walk Set set that includes a super comfy matching harness, poop bag dispenser, and poop bags – talk about getting the most bang for your buck!
This leash has it all: form and function with zero compromises.
• Soft-touch nylon
• Waterproof
• Light-colored leashes get dirty easily
• Some say it's not practical to use if you need both hands
3. Fable Pets: Magic Link Hands-Free Leash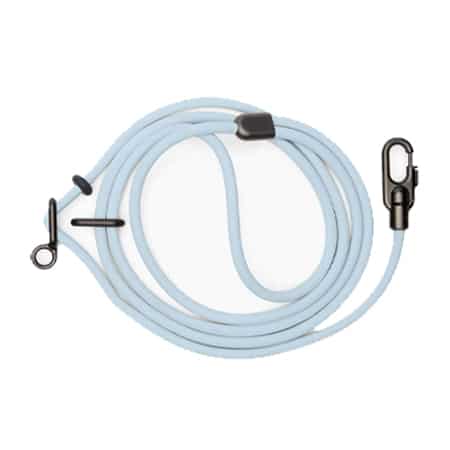 Durable, dog-proof materials
Waterproof
'Magic Link'
Looking for a leash that can stand up to any weather and is comfortable to use but still looks great? Then you need this dog leash! Nothing's worse than a fraying, uncomfortable leash dragging behind your pup.
They designed this leash with sleek yet strong soft-touch coated nylon for excellent grip – so you have everything you need for those unforgettable walks.
Plus, it's waterproof and easy to clean too. And when you upgrade to the Harness Walk Set, you'll get a full kit complete with a matching harness set and poop bags! With this option for walks, now even an everyday activity like walking your pup can be fun again!
• Soft-touch nylon
• Waterproof
• 'Magic Link'
• Rubber leash can get caught in hair and clothes
• Not as comfortable as other leashes
4. BAAPET Dog Leash
Made from rock climbing rope
Made from rock climbing rope
Durable
Get ready for worry-free walks with your pup—the BAAPET dog leash is here! Its 1/2″ diameter rock climbing rope and durable clip hook will keep you both safe, while its comfort-padded handle shields skin from any potential rope burns.
Plus, reflective threads ensure protection during those late-night strolls. And in case it's not the right fit after all? No worries—you can get a full refund or exchange easily so that your pup always has the best gear around. Get yours today and make every walk special!
• Made from rock climbing rope
• Reflective materials
• Durable
• Leash can cause rope burn if you're not careful
• Some reviews mention this is a flimsy leash
5. Neewa Logical Leather Dog Leash
Leather softens over time
Full-grain leather for durability
Can handle up to 245+ lbs of pulling force
Walking my pup has never felt better — or looked sharper! With the Logical Leather Dog Training Leash, I can handle an impressive 245+ pounds of pulling force with ease. Not only is it ultra-strong but also lightweight at just 6 ounces – making our strolls that much easier and more enjoyable.
The full-grain leather feels great on my hands too; plus it's resistant to water for easy cleaning after a rainy day adventure. For added style points (not to mention unbeatable comfort), we've opted for their matching padded dog collar—now walking in absolute luxury comes naturally with Logical Leather!
• Leather softens over time
• Full-grain leather for durability
• Can handle up to 245+ lbs of pulling force
• Takes a while for the leather to soften
• Doesn't have as much length as a retractable
• Usually comes in only 6-foot lengths
Types of Leashes
For leashes, there are several types available for puppies and small dogs. The type that's right for your pup will depend on their size and temperament. Here are some of the more popular options to help teach your pup leash manners:
Standard Leash – This is the most common type of leash and is perfect for everyday walking. It's usually made from nylon or leather and can come with adjustable handles. It's important to make sure that your puppy can move comfortably when wearing this type of leash.
Retractable Leash – These leashes allow you to adjust the length easily while walking. They made them from a thin cord material or tape that extends up to 25+ feet. They provide more freedom than standard leashes but can be dangerous if not used correctly as they don't have a lot of control over your pup when they wander away.
Best Leashes for Puppies
Leashes are an essential part of responsible dog ownership, and there is a myriad of different tools on the market for every need. I've had great success with retractable leashes on the rare occasion I use them, which give my energetic pup flexibility to explore but also keep him from running away in unfamiliar places.
For larger dogs with more energy and weight, webbing leashes may be the most appropriate choice given their enhanced strength and padding. These styles have been very successful in meeting my pup's needs, so you'll likely find something that works well for your beloved pet too!
FAQs
What Material Is Best?
When selecting leashes and collars (or harnesses!) It's important to pay attention to material quality. Some materials used in leashes or leads can easily break down due to wear and tear—especially if you take your pup out into nature often!
Look for durable materials such as nylon or leather that are built to last through any activity level. The key here is comfort; make sure whatever material you choose doesn't cause any irritation or discomfort to you or your pup's part!
Leashes – How Long Should They Be?
The length of the leash is also important in training puppies and small dogs. You don't want something too long as this will give them too much space to move around without being able to keep them in check.
The recommended length is usually a 6-foot-long leash to start out, though depending on where you live you may need a shorter option like a traffic leash.
Leashes that are too short can be uncomfortable both for you and your pup since they are always yanking on it while walking. The ideal length should not exceed 6 feet as this gives you enough control over your pup while still allowing them some freedom to explore their surroundings when out on walks.
Safety & Comfort Features That Matter
Besides finding a leash that fits perfectly around your puppy or small dog's neck, look for safety features such as reflective stitching along the sides of the leash so cars can spot you easily when walking at night time.
Additionally, make sure the fabric used in making the leash is comfortable against their skin (especially if it gets wet), plus look out for cushioned handles which will make holding onto it more comfortable during long walks!
Finally, look out for chew-proof materials as puppies chew everything in sight including leashes!
Conclusion
Now that you've read this guide, you should have a better understanding of the different types of leashes available and which one might be the best for your pup. My favorite is the Diggs leash for its versatility and comfort.
So, what are you waiting for? Get out there and find the perfect leash for your new furry friend! And if you need any help along the way, we're always here to lend a mighty paw.