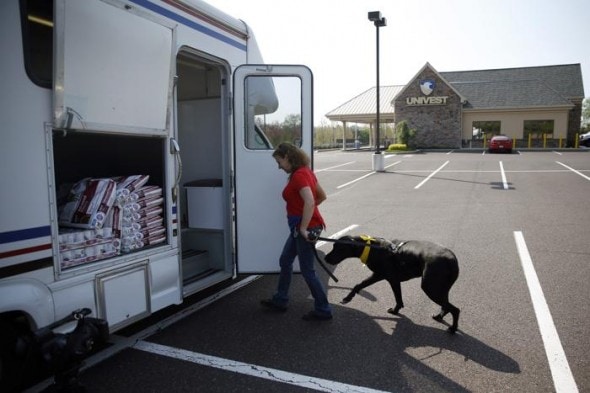 In Harleysville, at the University of Pennsylvania, there is a mobile blood donation unit of a different sort than what may commonly be seen being run by the American Red Cross in many areas of this country.  The university hopes to raise awareness for the need for doggy blood donations, and make it easier for willing pooches and their families to help each other out.
"You don't really think about it until you actually need it," said Kym Marryott, the manager of Penn's Animal Blood Bank.  "Just like in people, dogs need blood too."
The University of Pennsylvania's School of Veterinary Medicine says they are unaware of any other bloodmobile of this type in operation anywhere in the United States.  This one makes weekly trips throughout the suburbs of New Jersey and Philadelphia.
Just as there are restrictions and regulations for the collection of human blood, so too are there specifics when it comes to donations of the canine sort.  Dogs have to be at least 55 pounds, and younger than 8 years old.  The owners volunteer their dogs, and the procedure is short, and relatively painless.  No sedation is required.
Marryott did say the decision to actually lie still and ultimately participate is totally up to the dogs themselves.
"If (the dog) wanted to get up and leave, he could," Marryott said.  "But they're really good about it, they trust their owners."
There's about 150 dogs participating in the program, and each donates three or four pints of blood each year.  These units of blood then go to other dogs suffering from illnesses like cancer, or dog having been hit by cars, and needing transfusions. One pint can often be used to save up to three dogs.
When it comes to the "thank you" given to each of the brave dogs helping their fellow furry friends, it's not that dissimilar to what is given to us humans.  They get a heart shaped "U of P Blood Donor" sticker, and a treat immediately after.  They are also offered free blood screenings, and free dog food to take home.
If you're wondering about a bloodmobile for cats, well they aren't nearly as cooperative when it comes to the donations.  For cats, sedation is required, so donations of that kind are only done in an in-hospital fashion.
For more information, visit: