When Claire Revis learned about Colin, a seven-year-old stray dog from Bucharest, Romanian, who had his front legs deliberately chopped off and had been walking for months on his exposed bones and infected stumps, she knew she had to help. With the help of a friend, the stray was taken to a local veterinary clinic, where his wounds were cleaned and the dog was given emergency care. Meanwhile, Revis arranged to have him transported to England.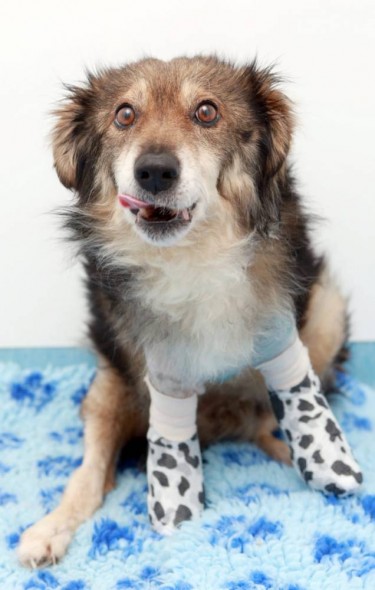 "He was found in a horrendous state, he'd been walking on bare bones, the skin on his two front legs had come off and he had a lot of infection," Revis told Hebden Bridge Times. "He was cleaned up and given antibiotics. We spoke to a company called Orthopets who [does] limb reconstruction in badly injured animals."
Ravis set up a fundraiser and thanks to animal lovers across the world £5,000 were raised. With this money Colin was transported to the U.K. and his front legs were amputated and prepared for the orthopedics limbs. His prosthetic limbs cost £3,000, and will soon arrive, but for now, the former Romanian stray is enjoying the love and care of his new owner.
Colin will have to wait a few more weeks before he can test out his new limbs. He will need to spend a few more months undergoing rehab and learning how to walk, but veterinarians are optimistic the abused dog will make a full recover.
"It's so rewarding to see dogs that have been mistreated re-homed to loving families," said Ravis. "People have donated from all over the world to see him come over and get re-homed. I've been so overwhelmed by the whole thing, [and this experience] really restored my faith in humans."
There are thousands of stray dogs in Romania that are abused daily, and even though not every dog can be saved, there are people doing what they can to offer some of those dogs a better life. Colin is one of those lucky dogs to get saved, we only hope there were many more stray dogs that could learn what being truly loved feels like.