It is with tremendous sadness that we tell you Romeo, the dog whose loving owner created a bucket list for him when she found out he had a terminal illness, has crossed the rainbow bridge.  Though he is gone from this earth, his legacy will live on forever.
When Riina Cooke created a bucket list for her nine-year-old boxer Romeo after she found out that he had inoperable bone cancer in his left hind leg, she never thought his story would go viral.
"He's all over the world now.  He has a Facebook page and there's something like 4,000 people on it now," the British Columbian woman said.  "I have thousands of messages from people saying he's helped them with their grieving process and that they've now given their dogs' bucket lists.  I've had people tell me it's changed their perspective on their dying animals or even family members, and how they want to stop hurting and instead enjoy every last moment."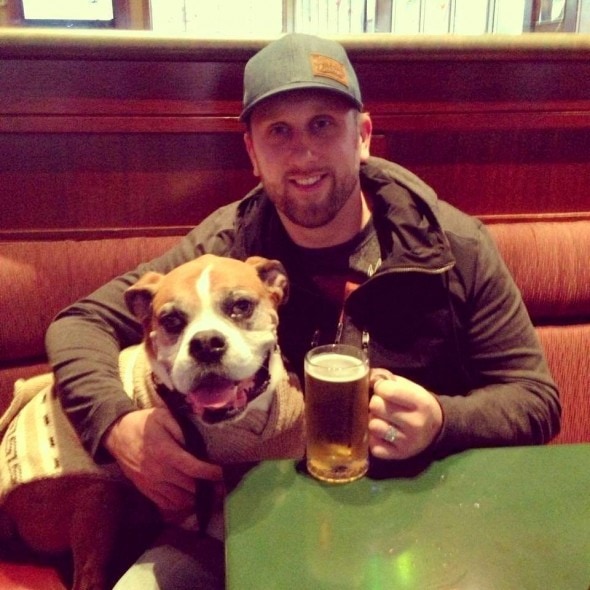 Fans have gotten to see Romeo through the years, as well as follow him on his final adventures:  getting to drink beer in a pub with dad Jon, hikes with mom, a paw-dicure, a birthday party in a park with his boxer pals, and his first trip to the US.
"This weekend we took him to another country, because he had never been outside of Canada," Riina explained. "We went to Birch Bay because my husband's family has a cabin there. It was our last wish on the bucket list to get Romeo to another country, and we did it. But overnight, at 4 a.m., the tumor exploded."
The Cookes packed their things and rushed home to get Romeo to his vet, but they knew his time was up.
"His leg was the size of an elephant, so we knew it was time," Riina said.
Later that morning, she shared the heartbreaking news with Romeo's fans:  "This morning at 9:30, I peacefully left this world. I was in my Mom's arms and in the comfort of my own home. Thank you for following my story and for all the amazing support. Love you all, Romeo."
Through her grief, Riina is trying to stay positive by focusing on the happy memories of Romeo and talking to others who are experiencing the same thing with their cherished pets.
"I'm going to keep helping other people because I know how painful it is," she said. "I'm not going to lie around because Romeo wouldn't want that. Romeo would be like, 'Mom, get the hell out there. Yoshi wants to go out!'"
She is finding comfort in knowing that Romeo's last days on this planet were good ones, and fondly remembers one of their last walks together:
"We went to the beach and I let him off leash for the first time in months and said, 'You know what buddy? Just be free,'" she said. "You could see the freedom in his eyes. Seeing him like that was amazing."
To see videos and more photos of Romeo, check out his Facebook page.