The Westin Ottawa is known to guests as being very accommodating and dog-friendly, so its recent initiative comes as little surprise to many:  a few months ago, they partnered with Ottawa Dog Rescue and turned the lobby into a foster home for shelter dogs until they are adopted.
"I have raved about this Westin hotel since 2008! My dog and I stayed here and the staff were so amazing! I have been so used to be treated awfully for having a large breed dog and even paying a lot extra for the worst rooms in a place… it was SO refreshing to stay here," said guest Tonya Whittle, who was happy to give the hotel a glowing review on the Ottawa Citizen.
"I've recommended a lot of my friends over the years… I talk still about how the bellhops came to take her for walks and a pee first thing in the morning, took her to the park so I could go shopping and of course she had her own heavenly bed delivered complete with bowls and treats! What an amazing hotel – it's so nice to see a company that truly cares… you really do feel the love."
And now rescue dogs are feeling that same love.
"We have the facilities and the ability to do it," general manager Ross Meredith told CTV.  "We house people so, maybe we can house dogs."
A kennel area was built right under the escalators, giving guest the opportunity to see the dogs available for adoption.   But staff members can take them to quieter areas, and guests are even allowed to take them on walks.  At night they stay behind the front desk or in an office.
#WestinWorkout #WestinWags @OttawaDogRescue @WestinOttawa pic.twitter.com/O9SMTvc0P8

— Sonya D'Silva (@DSSonya) March 21, 2016

The dogs chosen to stay at the hotel must be evaluated to make sure they have the right temperament to live in a place so bustling with activity – non-aggressive and not prone to barking at strangers.  Each dog so far has stayed for two to three weeks before being adopted.
"The program so far has been fantastic," said Andrea McCoy of Ottawa Dog Rescue. "I think it brings a lot of awareness to rescue and the rescue world in general."
Guests are delighted by the dogs.  They usually want to pet and play with them as soon as they spot them.  This is likely very comforting for people who must spend a lot of time traveling for business.  And they're even more impressed when they learn why the dogs are there.
"I love dogs, so I love the idea of making sure they go to the right home," said guest Karen Jackson.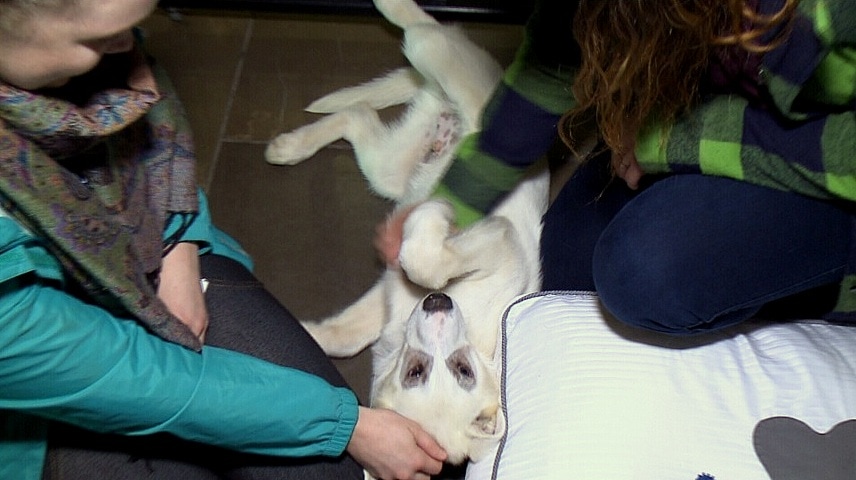 But it's hard for staff members to say goodbye to their furry guests.
"It's hard to let them go," explained executive assistant Elia Villamayor. "You build up such a fond bond with these dogs."