On Jan. 10, 2014, heroic Chicago firefighters braved the city's bitter winter weather and jumped into Lake Michigan to rescue a dog in need.
The golden color dog was fighting for his life in the freezing water after falling through thin ice while walking on the lake with his owner.
Fire Department spokesman Larry Langford told the Chicago Tribune the dog's head was the only visible thing when the rescue unit arrived on the scene.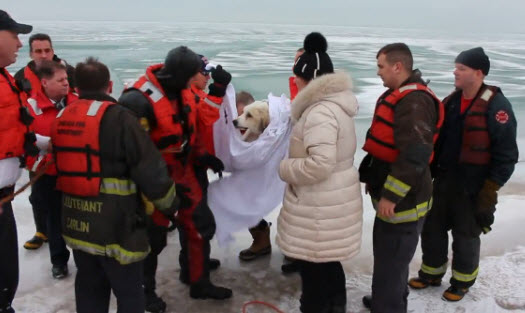 In order to save the pet's life a rescue diver secured to a rope jumped into the lake to extract the pet. Once both, dog and rescuer, were secured other firefighters pulled them to shore.
The 50- to 60-pound dog was later warmed up with blankets and handed over to his worried owner.
Thank you firefighters for risking your lives in the sub-zero lake water and saving the four-legged friend!