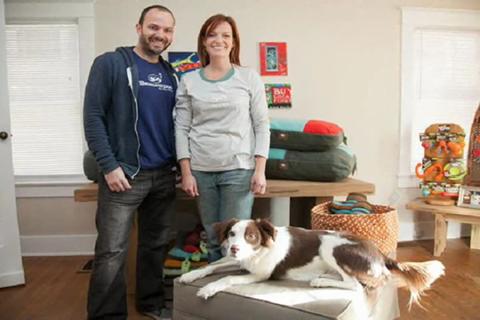 When canine guests check into The Highland Dog in Louisville, Kentucky, they aren't treated like dogs in ordinary kennels.  Instead of being crated and checked on a few times a day, these pooches are pampered and treated as if they were on vacation.
Owner Kelly Drescher calls it a "kennel of a different breed."  She and boyfriend Joe Blevens decided to open the luxury lodgings after finding a lack of suitable suites for their own dog.  They bought a house that was once a parsonage for Calvary Lutheran Church, and remodeled it to accommodate dogs.
"The house had just been neglected before we moved in," Kelly said.  "I think they (neighbors) thought we would demolish it and build a kennel."
The pair spent $50,000 turning the four bedrooms into eight smaller rooms, soundproofing some of them.  Flooring was replaced and tempered glass doors installed.  The backyard was fenced so the dogs could romp around, and the basement was turned into a rainy day play area.  The front of the house serves as a reception and boutique area.
"Every dog that I've met and has stayed has had a different personality," said Kelly.  "They're my kids.  I love them."
Dogs really dig these digs, but some of the neighbors aren't overjoyed.  At first the Deer Park Neighborhood Association board had voted against permit requests, despite the property being zoned for commercial use.  There were concerns that barking dogs would disturb the neighbors, and that additional parking would become a problem in an already congested area.  The Louisville Metro Board of Zoning Adjustment eventually relented and granted Kelly the permits.
Herbert Delegal lives two doors down from the dog house, and says he occasionally hears barking, but that he isn't bothered.
"They promised that you wouldn't hear the dogs before they opened, but you do," he said.  "But other neighbors have dogs, and I hear them, too."
He was also worried about more traffic, but so far there haven't been any problems.  Neighborhood association board member Fred Crawford says that he can hear barking at night, and neighbors have complained about clients using the front door when they're expected to use the rear entrance.
But Kelly and Joe haven't heard any complaints from the neighbors since they opened in November.
"I sympathize with the neighbors," she said.  "They didn't know what it would be like."
"We're biting our tongues, trying to be nice neighbors about this," Fred said.
But not everyone is griping.  Stewart Abney lives a block down the street and has brought his dogs Maggie and Buckley to stay at the hotel several times.
"None of them (other kennels he's seen) were as nice and as well put together and as clean as this one.  Whenever I've been there to pick the dogs up, I've never heard dogs barking," Stewart said.  "I understand the concern (from neighbors), but it's also a part of living in the Highlands.  There might be a doggie daycare down the street or a tattoo shop."
So far The Highland Dog has been a success.  About 60 dogs have stayed so far, and all the rooms were booked over the winter holidays.
Kelly and Joe have been surprised by their clientele.
"We thought it would be older people" who board their dogs, Joe said. "But mostly it's been 25-to-40-year-old people."
The rate is $50 per night, and owners must provide the food their dog eats, but Kelly has been known to cook up chicken that was supplied by clients.  Owners needn't worry about the safety of their pups.  There is 24-hour surveillance, and owners can receive Facebook or text messages with updates and photos.
"They usually text pictures of them playing," Stewart said.  "We're kind of obsessed with our dogs like that."
The couple doesn't live on-site, but each suite has a webcam so Kelly and Joe can monitor their guests. They are there to let the dogs out at 6 or 7 am, throughout the day, and at 11:30 pm.  The dogs are spoiled while their owners are away – plush dog beds, treats, classical music, windows overlooking the area, and if owners desire, their dogs will be shown movies or slideshows of their favorite humans.
"They seem really happy, and the owners are happy," Kelly said. "We definitely thought it was needed in the Highlands."
Canine customers must be at least one year old, able to climb stairs, in good health and up-to-date on their vaccinations.
"A person could stay there very comfortably," joked Terra Long, legislative assistant to Metro Councilman Tom Owen (who was initially opposed to the permit.) "If your husband is in the doghouse, you could send him there."