Buddy is a three-year-old mastiff/pit bull mix with eyes and a smile that melt hearts.  In January he survived at least two nights in 12-degree weather.  He was found frightened, alone and trembling from the cold in a parking lot near the Newark Airport.  Had he been outside one more night, the frostbite he suffered would have been much worse, and it is likely that he would have succumbed to the extremely frigid temperatures.
He was saved by Jane Kolyer, who fed him and brought him to People for Animals in Hillside, NJ.  He was vaccinated and given a clean bill of health, with the exception of the beginnings of frostbite at the end of his wetnose, and being a bit underweight at 75 pounds.
Buddy is not microchipped, and no one has come forward to claim him.  Jane lost her home to Hurricane Sandy, and renting with her 10 pets in tow.  She could not keep Buddy, and placed him in boarding.  He is a sweet dog, but has been suffering from anxiety which caused him to break six of his claws and tear up his nose trying to get out of a crate.  After being neutered he was able to spend time in a home, but unfortunately must return to a kennel.  This terrifies him, and he cries to get out.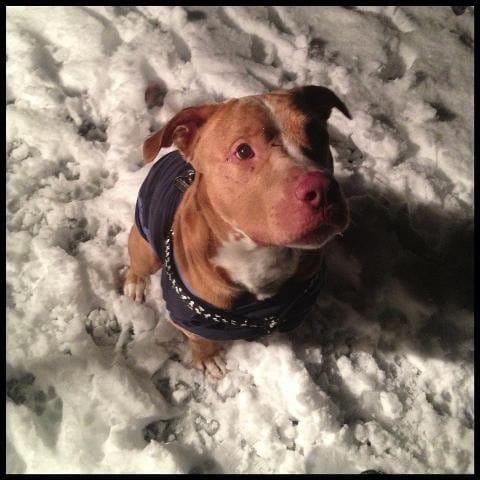 A volunteer is able to occasionally take him home with her to reduce his stress, but he needs a permanent home, and fast.  Though shy at first, he becomes easily attached and seems to be quite house-broken.  The people who take care of him believe he was once someone's companion.  Buddy just wants to love and be loved in return.
He is likely to get along with other dogs, but not cats, and it is not recommended that he be around very small children due to his size.  Anyone interested in fostering or adopting Buddy should be experienced in handling large dogs, and should have patience to deal with his separation anxiety.
If you are interested in Buddy, please email [email protected] or call 732-804-0548.  Those interested in helping defray the boarding and veterinary costs can visit:  http://sugar412005.chipin.com/newarkparking-lot-dog-buddy.  Buddy's Facebook page can be found at:  https://www.facebook.com/pages/Buddys-Buddies/561352650542724