The conveniences of the World Wide Web have people putting anything and everything online. People try to make a quick buck or two by selling their processions on the web, others think they are helping the needy by giving away their unwanted things for free. Something you should never give away on Craigslist is your pet.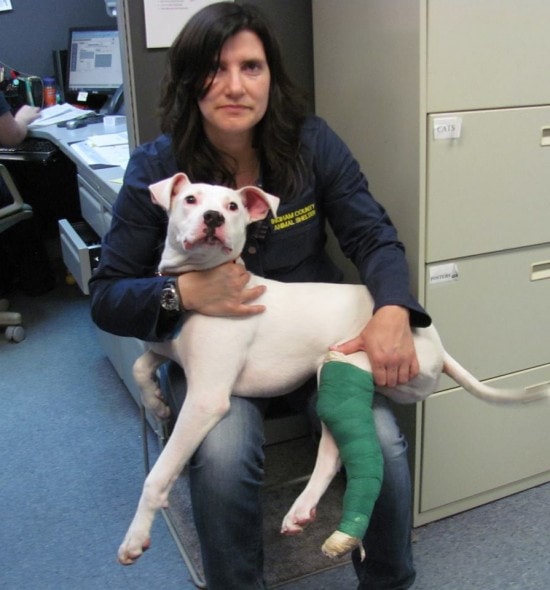 First off, your dog is not a thing. It is a living, loveable being that deserves respect and care. Second of all, Craigslist is full of dog flippers that are not looking out for your pet's best interest.
A family in Ingahm County, Mich., couldn't keep their two dogs and decided to place a "free to a good home" ad on Craigslist. Both pets found new homes the same day, but a few months later Ingahm County Animal Control had to rescue one of the dogs who ended up at the hands of an abuser.
The family gave Duke, a white Pit Bull, to a young couple who seemed nice, but somehow the dog ended up at the hands of a teenage boy who kicked and beat the animal causing Duke permanent damages.
Thanks to an anonymous call made to the animal cruelty tip line, animal control learned about the abuser. They were able to locate the teenage boy and rescue the dog.
Animal control got a hold of Duke's original family because the dog had been microchipped and the information on the chip was never changed. The rescuers informed the family of the misfortune they had bestowed on their dog.
As for the "nice couple" the family had given Duke to for free, animal control was not able to find them.
Due to the abuse Duke endured, he will have a permanent limp on one of his back legs.
Before you decide to give away your pet online, make sure you screen potential adopters thoroughly. Verify the contact information you receive is real. In any case, there are many organizations that are willing to take your unwanted pets and find new homes for them with appropriate adopters. Don't give away your pets online. Instead work with a reputable organization that will offer your dog the life you can't.