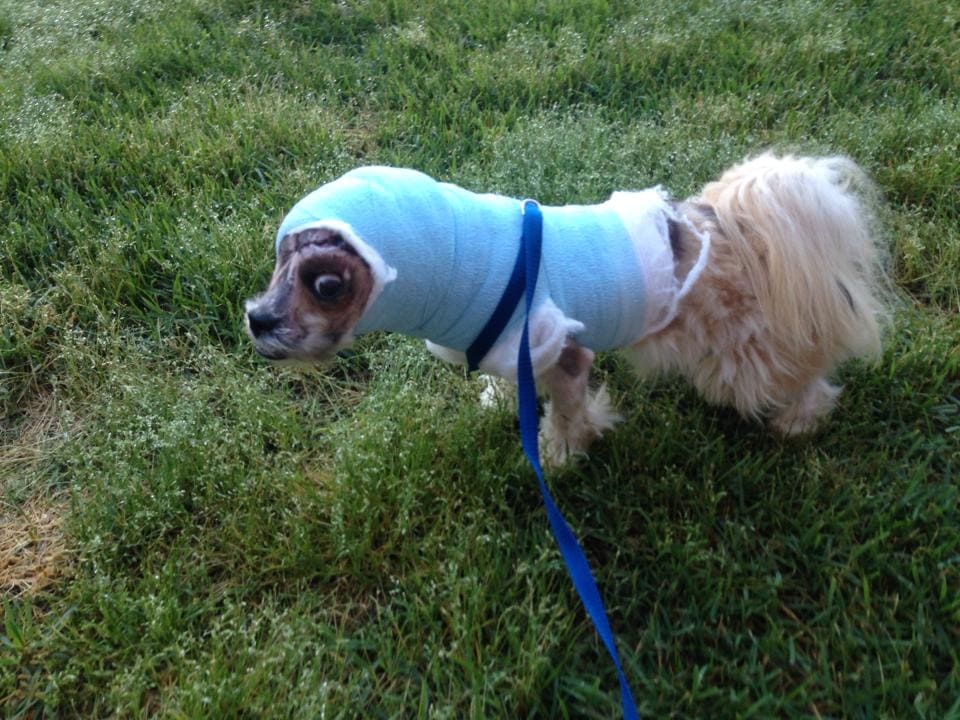 Toby, a 20-pound Lhasa apso, or at least that the general consensus on what kind of dog Toby is, was brought last month to the Guilford County Animal Shelter, in Greensboro, North Carolina, badly burned.  SO bad in fact, that at first sight, it was virtually impossible to tell what breed he was from how badly burnt he was.  Now, Toby is recovering from his injuries so well, he has amazed all of those wonderful people taking care of him.
"He's good natured, in good spirits, gentle.  He comes up to people," said David Green, a spokesperson for the NC State University College of Veterinary Medicine.  "It's obvious he's used to being around people."
This is believed to be a clue that someone did own Toby, and may be missing him very badly.
Another clue to the shelter that he was a family member to someone, now very missed, is the fact that when he was picked up and brought in, aside from the burns, Toby was "well groomed, with no broken bones, fleas or ticks," according to Marsh Williams, executive director of the shelter in Greensboro.
There is a police investigation that is looking into what happened to Toby, and who is responsible for the state he ended up in.
Williams said someone brought Toby into the shelter a few weeks ago.  The shelter contacted the College of Veterinary Medicine because of his unique and severe condition.
"He was brought to us by someone who found him in their yard," said Williams.  "He had third degree burns over half his body and one eye was scorched," and had to be removed.
When Toby came in it was very difficult to tell just what breed he was.  At first it was though he was a shih tzu, and it was kind of hard to tell because of the burns on his face.  He has undergone skin grafts and had part of his ear made into an eyelid for his remaining eye.
So, after going through everything poor Toby has, one would imagine that his attitude and disposition would be a little bit affected by all this.  That however does not seem to be the case.
At first, Williams said of Toby, "he's really, really sweet."  After spending just a few moments with him, she sounded a little different.
"He's the sweetest dog ever.  He's a very happy fella.  He came in burned badly and in pain, but he still likes to be petted," said Williams.
Green, of the vet school said, "He actually went up and leaned against the doctor who was going to perform the surgery, as if to say 'Here I am, doc.  Take care of me."
The Greensboro Police Department is still looking for whomever did this to Toby.  Hopefully they will be found soon, and justice will be served.  If you do have any information regarding Toby, or how he ended up in this terrible predicament, please contact Greensboro police, or the Guilford County Animal Shelter.
As of the writing of this article, and update from David Green regarding Toby's surgery and current condition was made.  According to Green, Toby "is now resting comfortably."