———————————————————————————————————————————
Internet fame has a price: anonymity.
Months back, we shared with you a charming post-rescue photo of Detroit-area musician Dan Tillery and his new pet, a pooch the Detroit Dog Rescue had originally called Sir Wiggleton (because as we all know, some dogs boast an exceptionally vigorous wag that doesn't stop at the tail!). We weren't the only ones charmed by the upside-down selfie, either. The shot went full-on viral.
But it caught the eye of folks beyond the dog-lovers' community and landed Tillery, and the newly renamed Diggy, in a bit of hot water.
Waterford Township, where the pair live with Tillery's girlfriend, Megan, is a neighborhood where breed-specific legislation prohibits the ownership of pit bulls. And although the dog rescue did its due diligence, providing a certified statement from a veterinarian classifying Diggy as an American bulldog, local law enforcement folks weren't buying it.
They wanted the dog evicted from his new home.
———————————————————————————————————————————
The incident sparked action among area residents perturbed by BSL ordinances. A petition garnered more than 100,000 signatures in the wake of Tillery's legal troubles. But in the end, justice prevailed.
On Tuesday, courts at last dismissed the ordinace violation. Diggy will be permitted to stay in his new home.
"Thanks for all of the support everybody! We did it," Tillery said in a Facebook post. "Thanks Kristina Millman-Rinaldi and Detroit Dog Rescue for sticking with us throughout this process. Thank you Bobby Murkowski and Miller Canfield for the Great Job done! Thanks to everyone involved. We get to keep our boy. He's a good boy."
DDR Director Kristina Rinaldi was pleased by the outcome.
"I'm overjoyed to know that Diggy will be spending the rest of his life where he belongs -with his family. I can't thank Dan and Megan enough for loving him as much as we do at DDR," she said in a statement. "I think the whole world loves Diggy! We, at DDR, are thrilled that we were able to help him find his way to a happy forever. Diggy's road to forever was a combination of so many great people working together and that's what rescuing dogs is all about."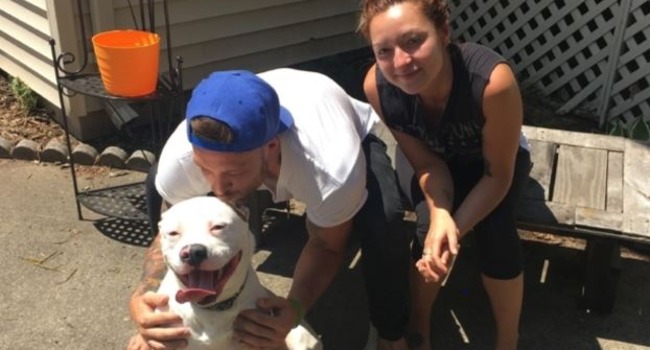 ———————————————————————————————————————————