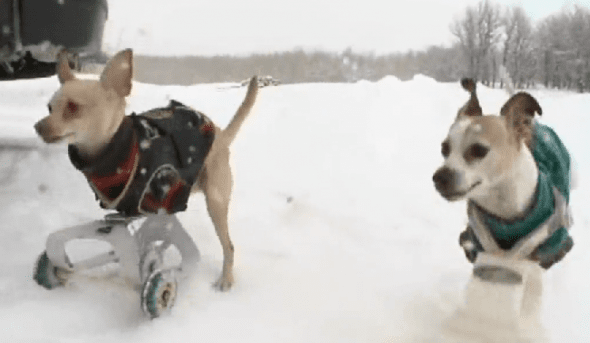 Kandu and Lucy both are missing their front legs. Thanks to the efforts of their loving family they are able to get around quite well. Twice a month the dogs visit the Yampa Valley Medical Center to inspire and uplift the patients there.
Seven years ago the Rogers family saw a new piece about Kandu. Born without his two front legs Kandu was facing being put down. Several families offered to adopt Kandu and the Rogers were selected. Since then they have been doing everything they can to make Kandu's life better. Ken Rogers works on prosthetic mobility devices to help Kandu get around. The devices strap onto Kandu's chest and Ken has developed ones with wheels and even one that is like a sled for the snow.
Kandu isn't the only animal the Rogers' are helping. The Rogers' have five dogs total and a cat. "We tend to adopt pets with disabilities and do everything we can to try to help them," said Ken Rogers. Kandu now has a friend, Lucy, with the same disability.
Both dogs have great attitudes and don't let their disabilities slow them down. "[Kandu] has a can do attitude that nothing's going to stop him. He will go up steps, he'll try to go swimming," said Ken Rogers. These attitudes are what made the Rogers decide to start taking them to the Yampa Valley Medical Center, where Melissa Rogers works.
The patients love seeing Kandu and Lucy. "When they see Kandu often times they forget about what's wrong with them," said Ken Rogers. The dogs visit the medical center twice a month to inspire the patients. "It shows people if this dog can do it, you can do it too," said one patient.