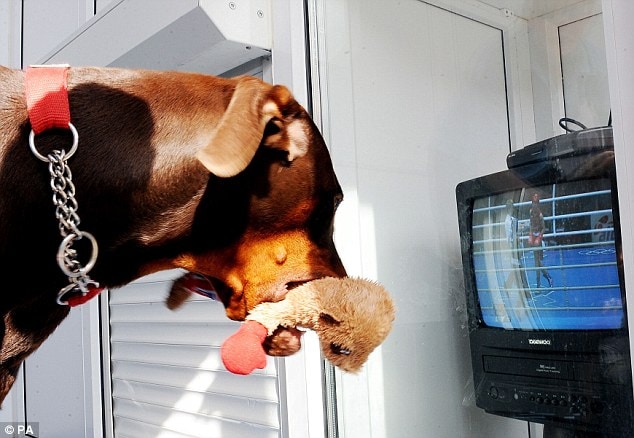 It was a proud day for Great Britain native, Nicola Adams, as she triumphed in the boxing arena of the London 2012 Olympics to win the gold medal. Of course, the win may have had something to do with her beloved pooch, Dexter, cheering her on.
Dexter, who has been staying at a boarding kennel while Nicola fought her way to the top, had a TV placed in his apartment. Staff at the kennel tuned the TV to the historic match so that Dexter could be apart of the action.
During the first three rounds of the match, Dexter was overly excited. When it came to the fourth round, however, he stopped in his tracks to watch Nicola make history. Dexter pawed at the screen as he watched the match.
With his Team Great Britain boxing meerkat clutched in his mouth, Dexter paced as he waited for the referee to hold Nicola's hand high in victory.
"We think it is quite unusual. But he can certainly hear Nicola and we think he is referencing that Nicola is on TV," said James Cundy, a staff member at the kennel.
Following her victory, Nicola made history as she became Britain's first ever female Olympic boxing champion. The crown didn't come easy, as she had to defeat the number one boxer in the world, Cancan Ren from China.
After her joyous victory, Nicola stated, "I am so happy and overwhelmed with joy right now. I have wanted this all my life and I have done it."
Despite the fame the victory has brought her, Nicola doesn't plan on changing her ways, and Dexter is a big part of that.
When asked if winning the gold medal would change her, Nicola simply smiled and said, "Gold medal? I'm still the normal Nicki that everyone knows, walking my dog."