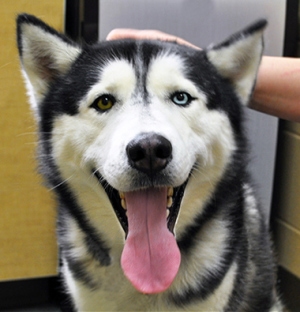 A woman who tied her dog's mouth shut with twine so that he wouldn't eat has been found guilty of animal cruelty and will be sentenced on May 2.  Crystal Smith of Ypsilanti Township, Michigan had kept the dog chained up outside and starved him.  When he was found he was emaciated and dehydrated and had a large burn wound on his side which Smith claims "just showed up one day."
The investigation began last summer when a neighbour reported that the dog was loose.  Officials took him from Smith when they discovered his woeful condition, and Smith has since admitted to tying his mouth shut.  "This was a really clear case of animal cruelty and we are grateful to the prosecutor and judge for seeing the gravity of this dog's suffering. Animal cruelty is a serious crime and we want to make sure people who intentionally hurt animals pay for their crimes," Matt Schaecher, HSHV Director of Animal Cruelty, said in a statement.
The dog has now been living at the shelter for 216 days and is in good health, having gained 8 pounds in his first 8 days there.  "Our staff and volunteers have done a fantastic job of protecting him, healing him and keeping him comfortable during a very long stay. This is a great dog and his suffering is through no fault of his own. He deserves a chance at a happy life," Tanya Hilgendorf, HSHV CEO, said in a statement.
Now that he is healthy and healed he is ready to go to a new forever home and live a long and happy life.  If you are interested in adopting him visit www.HSHV.org or call 734-661-3511.