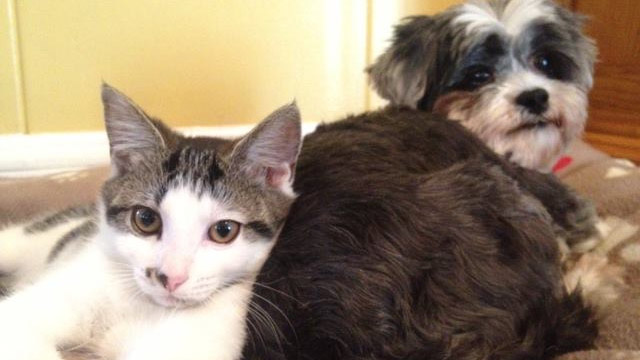 Back in May we brought you the story of a Shih-Tzu that saved the life of a kitten and took it in as if it were her own puppy. The two were found in a ravine in South Carolina and became a media sensation. Now the pair have found a loving home together and are doing well.
In May and Anderson County animal control officer responded to a call about a dog barking behind Home Depot. When she investigated she found the Shih Tzu and the kitten down in a ravine behind the store. The two were rescued and brought to Anderson County PAWS Shelter were they were kept together. Once the kitten was old enough staff started working on finding the two a home together.
There was plenty of interest in the pair. The shelter named the Shih Tzu Goldie and the kitten Kate, after actress Goldie Hawn and her daughter Kate Hudson. Their story had reached thousands all over the world and the shelter received phone calls from all over the country and even from other countries inquiring about adopting the two. The shelter knew they had to find the right home that could take both of them, as the two couldn't stand to be separated.
Joe Harris and his wife were the lucky couple selected to give the pair a new home. Harris saw their story on the news and submitted a letter asking to adopt them. He and his wife had previously owned a dog and a cat, Samantha and Simon, who had passed in 2012 within only two months of each other. Goldie and Kate reminded him so much of them.
Harris has created a Facebook page for the famous pair which is settling in great in their new home. They still have a strong bond and Harris is glad to be able to provide a loving home for them together.
"Goldie adopted Kate, and we adopted both of them," said Harris.