It was a cold morning this past January when Patrick set out to take the family dogs Roo and Misty on their morning walk.   While walking down the sidewalk Roo stopped to look at something lying in the street gutter next to the sidewalk.  Patrick assumed it was trash and tried unsuccessfully to get his dogs to proceed with the walk – Roo absolutely refused!!
Upon further examination, Patrick realized the bundle lying there wrapped in some sort of cloth was a small dog that was not moving.  He quickly ran his dogs back to the house and then immediately returned to the barely moving little dog, scooped him up and took him home.  Lucky for this little dog, the right people found him – Patrick's wife Jenny is the Assistant Director for the Humane Society of Dallas County (also known as Dog & Kitty City) and she immediately took the dog to the shelter and started him on fluids.
As it turns out, the dog, now known as Rabbit, was wearing some type of doggie robe that had been on him so long it had rubbed most of the hair underneath the robe off.  Rabbit suffered from dehydration and extreme exposure.  He was in perhaps the worst shape of any dog that had come to the shelter.  His fur was so matted, urine scalded and full of fleas and parasites that he had to be shaved.
Thankfully, after five months of medical attention, a good diet and lots of love and care from the staff and shelter volunteers, Rabbit has made a full recovery and this deserving little guy is now ready for a new forever home.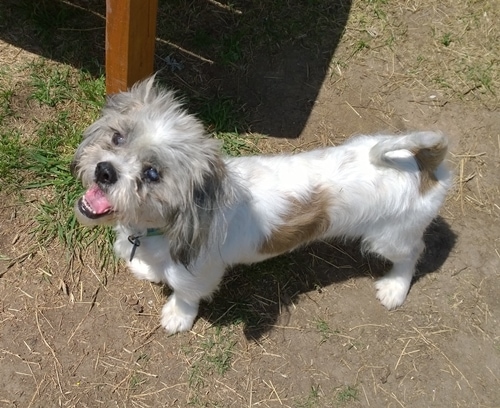 ———————————
The Humane Society of Dallas County aka Dog & Kitty City is a no kill animal shelter located at 2719 Manor Way, Dallas Texas 75235.  Their purpose is to provide a safe and healthy environment for the indigent, abused and neglected animals of Dallas.  They are a 501.c3 non-profit organization and do not receive any tax support. They rely solely on private donations.