John Benton knew something was amiss when his dog tried to prevent him from leaving his home for the office.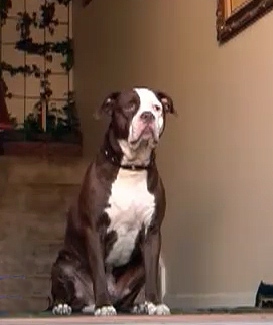 On a quiet July morning, Titan suddenly blocked the doorway as Benton attempted to go to work. "He ran down the steps and would not let me go out the front door," Benton said. "He was barking and running around in circles, he'd run up a few flights of steps and run back down just to keep me from going to let me know something was wrong. And that's when I followed him up the stairs to see what he was trying to tell me."
Benton found his wife, Gloria, unconscious and bleeding from a head injury. Doctors would later tell him she had suffered from a brain aneurysm and had fractured her skull. They also said that if Titan hadn't come to the rescue that fateful morning, Gloria's chances of survival would have been slim.
For his heroism, Titan has been honored by The Humane Society of the United States in the 5th Annual Dogs of Valor Awards. The award has earned him national recognition, and the Benton's say they could not be more proud of their loyal companion – even though Gloria admits that she didn't even want a pit bull at first.