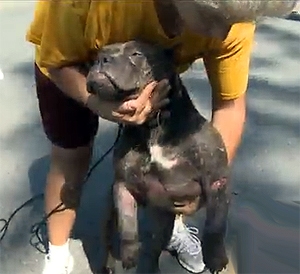 The Hillside S.P.C.A has confiscated 14 pit bulls from a Schuylkill County, Pennsylvania home after finding them living in horrific conditions, and now the family says they want their dogs back.
Jessica Heller was one of the first to enter the house, and struggled to describe what she saw. "The smell blew us away as soon as we walked into the house. The smell of pee, feces, and there was also a dead dog there," Heller said.
S.P.C.A. official Janine Choplick said some of the dogs had open wounds and signs of crude surgeries performed by their unqualified owner. The dogs were seized after numerous abuses were noted.
"The ear cropping, it must be done by a vet with records that it was done humanely, also tail docking…he should have paperwork for that," said Choplick.
According to police, one dog nearly died from paint fume exposure. "One of the dogs had a paint can struck on it's head so tightly, he was banging it off of everything." neighbor Ken Dixon said.
In a surprising twist, the owner of the dogs visited the SPCA and demanded their return. He was turned away, and would not comment on the incident. Police said criminal charges should be forthcoming.