After a call from someone taking the garbage out to a dumpster in Jurupa Valley, animal control was sent out for a rescue.
Reports initially say the dog was abandoned over night by someone, at a trailer park.  A resident of the trailer park said he was on his way to take out the trash when he first noticed the Chihuahua mix.  He had alerted park management, who then called Riverside Animal Control Services.
The officer was on scene around 9 am.  The three-year-old male was taken to the county shelter in Jurupa Valley, and is being fed, and having a full medical check-up according to reports from animal control.
When he was in the care of the county shelter, the vet techs checked him for a microchip.  He wasn't chipped, nor was he wearing any identification when he was found.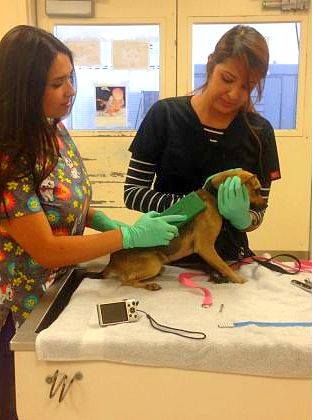 All outward appearances had vet techs reporting that the dog was in good health, even if it did have a minor elevation in body temperature.  It was also noted that he was a bit shy at first, but was all together a good natured little guy.
"It's a sick act to treat any animal in this manner," said Robert Miller.  Miller is the director of the county shelter and animal control.  "A dog is a living creature.  It's not trash.  We can always work with pet owners to rehome their pet.  To do something like this to a dog is despicable."
The shelter is waiting the required amount of time for the owner to come forward and claim the dog.  After that, he will be put up for adoption.  To get more information on the little guy, or any of the adoptable animals the Jurupa County Animal Shelter has available, you can visit www.rcdas.org or click here to view their Facebook page.