In 2008, four-year-old Bailey, a Yorkshire terrier from Austin, Texas, got lost when his home's front door was left opened. His owner, Grisel Jaramillo frantically searched the area but never found him. She did learn that someone in a maroon car had scooped up the dog and drove away with him. For six years Jaramillo and her family dreamt of being reunited with their beloved pet, and this past Thursday their dream came true.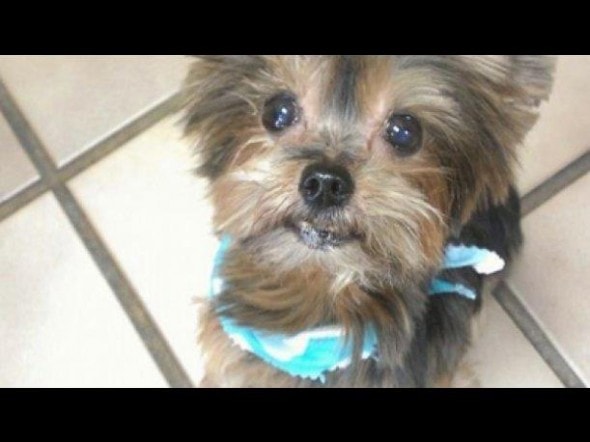 Bailey was found in Indianapolis, Ind., 1,100 miles away from home. He was hungry, dirty and with matted fur. Pam Hardy was looking out her window when she spotted the dog trotting through her front yard, and as an animal lover herself she went out to rescue the pet.
According the Indy Star, Hardy already owns a dog and a cat. She begged her husband to let her keep the little stray, but in the end she turned in the now 10-year-old dog to Post Pet Hospital.
Veterinarians cleaned and groomed the dog. Aside from the dirty, matted fur, the canine suffered from flea bites and tooth decay, but over all he was in good condition. Vets believed the little Yorkie had not been living on the streets alone for too long.
When they scanned him for a microchip, on was found, and thanks to it, Bailey was able to travel back to Texas and reunite with his family.
"My dad called," said Grisel who is in nursing school, "but I was in the middle of a lecture, [so] I didn't pick up. He texted, 'Call now.' My dad is a cop, and he's always real calm. So I was shaking. I thought, 'Who died'? 'Hold on to your horses,' he said. 'They found Bailey.' My adrenalin, my sympathetic nervous center, was just racing."
Jaramillo couldn't believe that after six years, Bailey had been found. The dog that once served as Jaramillo's ring bearer and who had only met one of his three human siblings travel back home from Indiana to Texas to be with the family that never gave up on finding him.
The reunion was quite emotional, and even though the dog and his owner had spent more than 2,000 days apart, they picked up right were they had left off.
Welcome home Bailey!