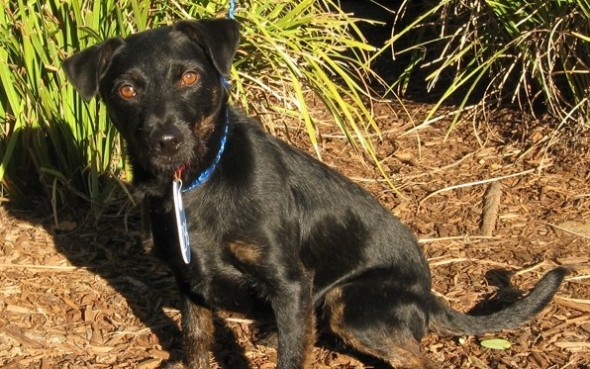 Ty Lewis told his children they were picking up a friend from the airport. The kids had no idea that the friend was their missing dog Rascal. After missing for over a month he was found 1500 miles away.
Over Thanksgiving weekend the Lewis family's 13-month-old Jack Russell terrier mix Rascal disappeared from their Kansas home. Weeks passed and Rascal couldn't be found. "After not hearing from anyone for more than a month, we thought we would never see Rascal again," said Nikki Lewis.
Then on New Year's Eve Rascal ended up at an animal shelter in San Diego, California. Rascal had been found wandering the streets and was picked up by a Good Samaritan. He was more than 1500 miles away from home, but still was wearing his collar and dog tag.The shelter was able to get in contact with the Lewis family and tell them the good news.
The shelter contacted the Lewis' to tell them the good news that Rascal was found. On Saturday Rascal made his way home to Kansas with a little help from an animal charity. The Foundation for the Care of Indigent Animals paid for Rascal's plane ticket home.
Nikki and Ty Lewis decided to surprise their children, Dani and Kass, by telling them they were going to the airport to pick up a friend. When they arrived at the airport the kids were thrilled to see the friend was their lost dog Rascal. It was a belated Christmas wish come true for the two young children. The Lewis family will never know exactly all the details of how Rascal ended up all the way in California. They are just happy to have him back home in Kansas.