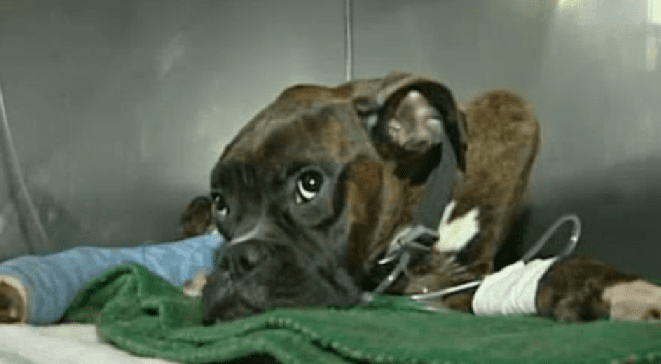 A one-year-old Boxer named Dempsey spent nine days lost in the freezing cold in Maine before he was found. He will be going home with his family today.
The Cryway family was in Maine for the holidays when a few days after Christmas he jumped over a fence and ran off. The family searched for days, but was unable to find him. They eventually had to return home to Maryland.
Meanwhile, Christine Pierce saw a posting on Facebook about Dempsey and wanted to help. Pierce has a Boxer herself and would hope others would help look for her dog if it went missing. So she started to search.
After missing for nine days Pierce found Dempsey in an abandoned warehouse. He had endured snow storms, ice storms and had been hit by a car. Pierce quickly rushed him to the Madison Animal Hospital.
Dempsey was suffering from hypothermia, had a broken leg and had lost half of his body weight, but he is expected to recover.
The Cryway family was ecstatic when they heard Dempsey had been found and credit Pierce with saving his life.
"I'm just so thankful, just so, so thankful," said Jamie Cryway. "She is Dempsey's angel on earth, she really is."
The family drove up to Maine to be reunited with Dempsey this weekend and will be taking him back home when he is safe to travel.