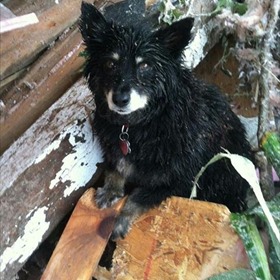 In the aftermath of the massive EF-5 tornado that struck Moore, Oklahoma on Monday, authorities and rescue crews have seen their share of death, destruction and devastation. But rays of hope still shine. Such is the case of one mud-flecked dog found amidst the debris.
There isn't much of a story to tell, but a confused and forlorn dog was found sitting atop a pile of rubble. The Oklahoma Sheriff's Department said she was "scared, but this little pup survived." They thought it was miracle as to how she came to be there, but were even more touched when they discovered why she was there. When he was found on Tuesday, he was standing over the body of what was believed to be her deceased owner.
The deputy that found the loyal dog is hoping to adopt her.
UPDATE: The dog, whose name is Susie, was not standing over her owner's body. Her owner, Curtis, is alive! The photo had gone viral since being posted on the OCSD tweeted it, and one special woman saw it on their Facebook page, and responded.
"Please don't adopt Susie Collins," Sheila Collins wrote. "She is my brother Curtis' dog and he is alive and the only reason he is not well is that he is looking for Susie."
The department responded: "Sheila Collins, we will be in touch with you. We would definitely like to help get this dog back to its family."
Thanks to Facebook, Curtis and Susie have been reunited.
"BIG thanks to the deputy who found and made sure Susie made it to the shelter," Sheila wrote. "Curtis and his other little dog Max, have picked Susie up and are headed out of town!"