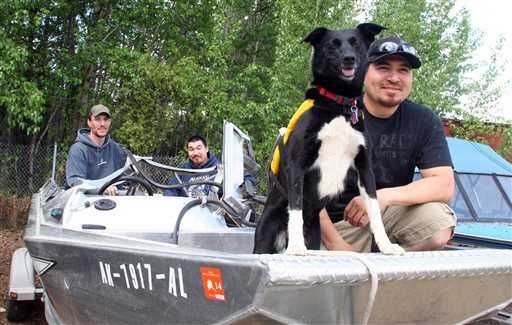 An unfortunate boating accident left a dog named Cutie missing. After several days no one expected to find her alive, let alone still with the boat. When the overturned boat was finally able to be righted there she was.
On May 26th Jeremy McDonald was out on the Chena River in Fairbanks, Alaska with two friends, John and Billy Minerva. John had brought his girlfriend's dog Cutie along for the boat ride. The river was high and when the boat became stuck on a log it flipped over. It all happened so fast no one had time to react. McDonald barely made it out from underneath the boat and the Minerva brothers nearly didn't make it out of the river either, one becoming pinned underneath a log. All three men eventually made it out of the river alive, but Cutie was nowhere to be found.
McDonald desperately chased after his boat which was floating downstream and looked for Cutie who had been wearing a life jacket. He was unable to catch the boat or find the dog though. So McDonald and his friends caught a ride into town and hoped to find another boat to go looking for Cutie. Even though McDonald had a bad cut that would later require stitches he was focused on finding the dog.
"My first priority was to get back up there and find the dog," said McDonald. "I put my dog down last winter, and I could imagine how bad everybody was feeling."
McDonald and the Minerva brothers eventually found the boat miles downstream hung up on a gravel bar. They were unable to get it out with the water as high as it was. There was still no sign of Cutie though. They called Alaska State Troopers to report Cutie missing, got the word out to all nearby campers and even posted about her on Craigslist.
The following day McDonald sought help from The Boat Shop, where he purchased his boat, on how to retrieve his boat. Employees came to check out the boat which was now upside down on the gravel bar. They attempted to get it upright but were unable to without the proper equipment. They tied the boat off to a nearby stump so it would stay put. The whole time they worked there was never a sound from Cutie.
When McDonald went to work the next day his co-workers formed a group to help retrieve the boat on Wednesday, three days after it initially flipped over. When they arrived at the boat on Wednesday the water had receded considerably and McDonald was able to look under the boat, that's when Cutie finally made a sound and began barking. She was stuck up under the dash in the boat's bow where she had managed to find an air pocket.
"It was crazy," said McDonald. "I get to the side of the boat, look in there and she barks and growls at me. I said, "Guy's, she's alive. Let's get this boat turned over."
McDonald and two others quickly hooked a rope up to the boat and flipped it over. Cutie came running out, clearly tired, hungry but happy to be free. When McDonald called John Minerva in his girlfriend to tell them they found Cutie they didn't believe she was alive, but when McDonald confirmed that he'd found her alive there were screams and tears.
Cutie was sore and hungry, but otherwise doing well despite her ordeal. As soon as she got home she was back to playing and wanted to just chase her favorite ball. Even though McDonald's boat suffered considerable damage he says finding Cutie more than makes up for it.
"That was a good day," said McDonald. "Even though the boat was all busted up."