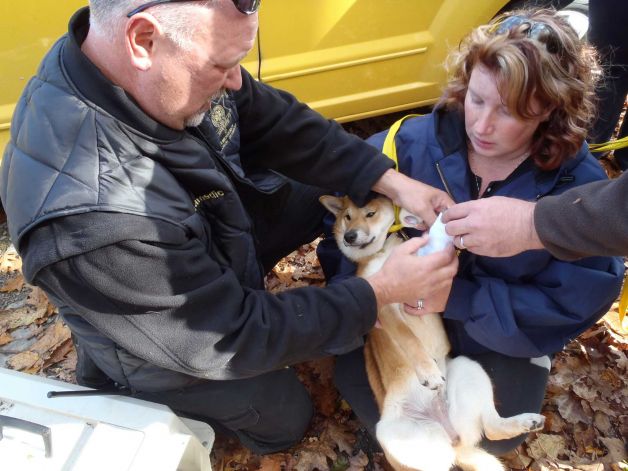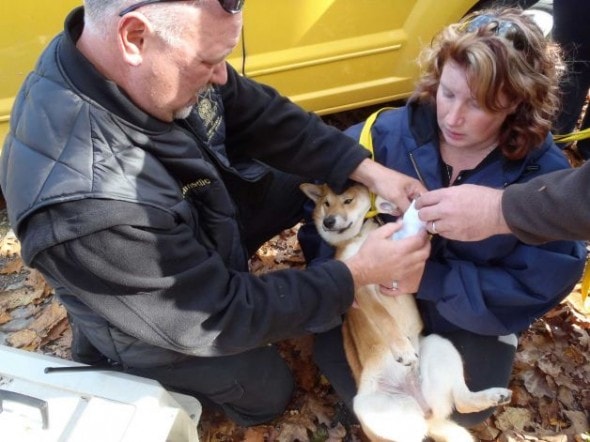 Samantha Cullum was taking her two Shiba Inus, Mia and Shiba, for a walk on Sunday morning. The two dogs were running around the park when 6-month-old Shiba didn't come back. Shiba had crawled under a fence and fallen off a 75-foot cliff. Albany County Sheriff's Office Search and Rescue Team was called in to rescue her.
Cullum had taken the two dogs to Thacher Park, where dogs are often off leash running around. The two dogs were having fun chasing joggers when Shiba didn't come back. Shiba took a tumble off the 75 foot cliff breaking her leg. The cliff is not a straight drop-off, but a precipitous decline of soft shale.
The Search and Rescue Team rappelled down the cliff to help save her. "It's very risky. You're talking about our people going over the same cliff the dog jumped off of, but it's a 75 foot drop. Yes, we are harnessed and belted, but whenever you expose yourself to that, there's a risk of injury," Albany County Sheriff Craig Apple said.
The rescuers made it safely down the cliff, but it still took them a more than five hours to get Shiba to safety. "They kept locating her, but unfortunately even with a broken leg, she was able to outrun them," said Cullum. They finally found Shiba hiding in a 3-foot-deep crevice. Once rescued she was taken to an local animal hospital. Shiba's significant injury was her broken leg. The leg is too badly broken to heal properly and will be amputated on Monday.
Even though dogs are often kept off leash at the park Cullum will now always have Shiba and Mia on leashes, "It's hard to know that I could have prevented this with something as easy as a leash," she said. "I feel awful. It was stupid. I should have known better." Authorities want to use this opportunity to tell pet owners that if you are going to bring pets to Thacher Park keep them on leashes or don't bring them.
Cullum is very grateful for those who worked hard to rescue Shiba, "They were wonderful. Everyone from the Park Police to the Albany Sheriff's Department, everybody, I can't thank them enough for everything they've done."