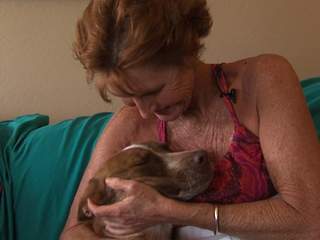 Ily is a survivor. After a deadly car accident, Ily ran off. She then spent two months missing in the Arizona desert before volunteers were finally able to bring her home safely.
In late June, Ily was in a car accident with her owner and another dog. Both Ily and her own went through the windshield. The other dog didn't survive. A frightened Ily fled the scene of the accident and no one could find her.
Rose Sherman, Ily's owner, is still recovering from the accident and has to use a wheelchair to get around. Over the past two months while she's been recovering she been hopeful that Ily will come home.
Volunteers searched the area near the crash scene looking for Ily for almost two months. There was no sign of her, until last week. Witnesses saw two dogs traveling together only about three miles from the scene of the accident. So volunteers took turn and patiently waited by a cage they had baited with chicken. Then finally they had Ily.
"We heard some clanking noises," said volunteers Lynn Drewniany and Guy Bownman. "And then there was a bark."
They sent a picture to Sharman and she happily confirmed that they in fact had found and caught Ily.
Ily had lost almost half of her weight over the two months she spent in the desert. Ily was underweight in dehydrated, but otherwise doing well. It was a happy reunion for both Ily and Sharman when they finally saw each other again.
"She jumped in my lap and wagged her tail and started crying," said Sharman.
Sharman is incredibly grateful to all the volunteers who worked for two months to bring Ily home.
"Thank you isn't enough," said Sharman. "It's just not enough."
No one is quite sure how Ily survived two months in the desert, but she found a friend in a stray dog that has been nicknamed Buddy. Sharman believes that was the key to Ily's survival. Buddy has also been caught and is currently up for adoption at the Maricopa Animal Care and Control.