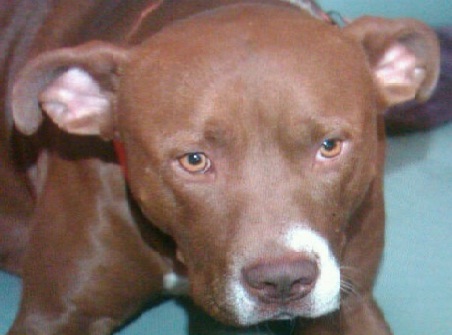 A dog named Braveheart has lived up to his name and landed himself a home after surviving a brutal throat-slitting.  Back in July, the pit bull mix's neck was severely lacerated, and he was taken to a county animal shelter in Georgia because his owner could not afford the costly surgery.
"The story I got when I picked him up from the shelter was the neighbors had been complaining that he barked so much and their belief is one of the neighbors slit his throat," said Cathy Roth of the Animal Rescue League of Northwest Georgia.  "It's beyond horrifying to me."
Braveheart had surgery, and was jumping for a squeaky toy and giving kisses by the next day.
"The trachea was exposed and all the other structures were exposed.  Luckily, there was no damage to any of them, which is why he was able to live," Roth said.
Monika Wesolowski volunteers with the ARL, and was immediately drawn to the damaged dog.  She offered to take him in while he healed.  She soon feel in love with the dog that had become a part of the family.
"How can you not love him?  Plus of course his story, seeing those wounds – that was the first moment I was like 'I want this dog to have a better life,'" said Wesolowski.
At first vets weren't sure he would ever be able to bark again, but Braveheart has fully recovered from the ruthless attempt at devocalization.
The 67-lb. dog is an adept jumper, and Wesolowski's fence needed to be replaced with a 6 1/2-foot tall one.  Fencing is expensive, but Braveheart's story had such an impact on people that the money for it was raised in just nine days.  Wesolowski hopes her dog's triumphant story can put a spotlight on animal abuse.
"I can't imagine the fear… I don't know how anyone could do that," she said.  "People need to see the reality of it.  It's not all fuzzies, kisses and love."
Braveheart's attacker has still not been caught.  The Animal Rescue League of Northwest Georgia has a reward of $2,500 for information leading to an arrest.