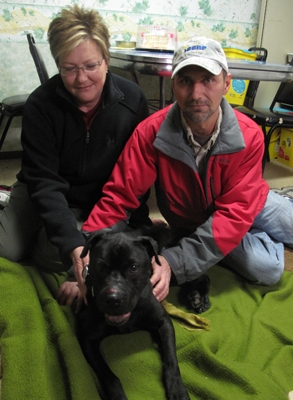 Henry is a shar-pei boxer mix who belongs to Scott and Samantha Kalal of Strongsville, Ohio.  Henry managed to get out the door on Christmas eve as guests were entering the house with gifts and had been missing ever since, much to the dismay of his family.  They have been searching relentlessly and are thrilled to have their boy back home with them.
But the story of how Henry became reunited with his owners is somewhat troubling for the Good Samaritans who rescued him.  Heather Stewart and her family were driving down Interstate 271 on Friday when her daughter, who is ten years old, spotted Henry at the side of the road and insisted that they stop.  With  no collar on, they took him to a vet only to find that he was not microchipped so there was no means to identify him.
They agreed to pay for x-rays to determine his injuries but when they found out he had a a broken pelvis and dislocated hip which would cost thousands to repair, they said they could not afford it.  So Stewart called the Medina County Society for the Prevention of Cruelty to Animals, thinking they would take care of Henry.  Instead she was told by Stephanie Moore, executive director of the county SPCA, that they could not take the dog because the Stewarts, by paying for the initial x-ray has inadvertently taken responsibility for the dog, even though it wasn't theirs.
So Stewart tried the Cleveland chapter of the Animal Protective League, but they were closed. Her family took Henry home for the night, and began again the next morning to find help for Henry.  "You find animals on the side of the road and you try to do good, and you need somewhere to take the dog, and nobody is willing to help you," Stewart said. "You wonder why nobody wants to do good anymore."
Stewart decided to call the Medina Gazette and a Cleveland television station for help.  When they contacted Moore she claimed that she thought the dog had gone to the APL, but did offer to come and get the dog as long as the Stewarts relinquished any claim to him.  But now Heather Stewart was reluctant to trust Moore, so she declined.  Eventually the Portage APL did take Henry, and turned him over to Moore.  "We wanted to do the right thing and make sure that he was cared for," Moore said.
After posting his picture on their Facebook page, Henry was recognized and eventually reunited with his family.  The Kalal's adopted Henry about a year ago from a suburban Cleveland animal control pound and were thrilled to have him back despite the costs they now face for his care and they are incredibly grateful to the Stewart family for ensuring that Henry was looked after.  "We're going to get some funds together somehow and we're going to do it," Samantha Kalal said.
According to Jeff Holland, and expert on animal law, in Ohio "In general, people who become the keepers of a dog or a cat are responsible for providing proper care," he said.   The Stewarts hope that the law that prevented from the SPCA from taking Henry in the first place won't deter others from doing good deeds for animals in need.