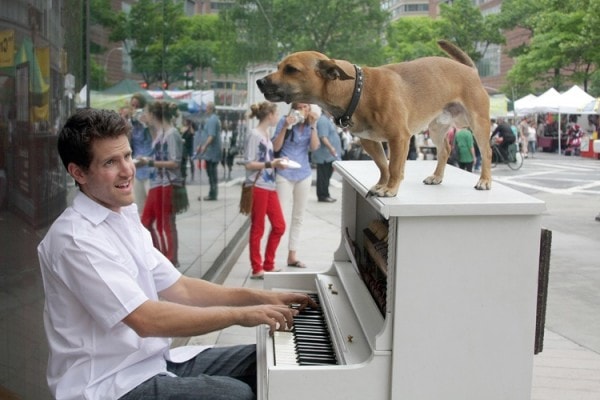 Brando has traveled to 53 cities and met thousands of people while sitting on top of his owner's piano.
A couple years ago, aspiring actor Dotan Negrin sold everything he had, bought a piano and a truck and decided to travel across America performing as a street musician. He brought his dog Brando along for the journey to share their music to anyone willing to listen.
The journey was called "Piano Across America" and now the duo is looking to take their fourth road trip to Central America. Negrin and Brando will travel south along the East Coast starting in New York City and eventually make their way through Central America. They will end their journey in Panama and hope to play with other musicians and document all their encounters.
Dotan will be creating a web series titled "Language of the Universe" on their trip, which will focus on the importance of music in people's lives. The duo has a few more days to meet their goal of raising $10,000. Dotan pays for travel expenses out of his own pocket and uses the donations to support the web series and maintain the piano.
"It is my hope that we can continue people to not just look on the bright side of life, to not just dream, but to create it and live it," Dotan said. To find out more about Brando and Dotan's project visit their kickstarter page.