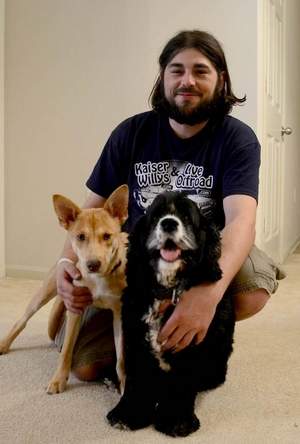 About a month ago, Matt Viola's Cocker spaniel, Ace, was given only weeks to live after a tumor was discovered in his mouth. But that didn't stop him from alerting his owner to a fire that might have otherwise claimed both of their lives.
Matt spent the evening in his South Carolina home, playing with his dogs and watching a movie. He fell asleep with Ace by his side. The self-described heavy sleep was awakened in a panic by Ace's excited barking.
"He went crazy," Viola said. "When I woke up, the room was orange."
Matt ran out of the house with his puppy, Spades, just behind him. He instinctually went for the hose to battle the blaze, but immediately noticed that Ace had not followed him out of the house.
Matt rushed back inside and started crawling around the floor near the couch. He couldn't see him, but then thought to check under the coffee table where Ace usually sleeps.
"He was scared," Viola said. "You could tell. He was shaking. I grabbed him, ran through the kitchen and out the back door."
Matt suffered from some smoke inhalation, but otherwise no one was injured. He lost most of his belongings, but the only things Matt cared about were saved – his dogs.
"The dogs were the most important thing. They can't be replaced, and that's the only thing I was worried about," he said. "I'm very grateful that he (Ace) got out. I would have went from room to room to find him."
Sadly, Ace likely still has only weeks to live. The tumor is wrapped around his teeth, and the vet believed removing it would do more harm than good.
Ace is on an antibiotic and is being given soft foods. Matt says he is eating "like a champ."
"That was harder than the fire — hearing that he only had a few weeks," Matt said. "It was such a shock because he has been by my side for the last nine years."
Matt met Ace at a party at a friend's house. Ace was being kept in the bathroom away from guests, and no one even knew he was there because he was so quiet. When Matt found the dog, he felt an immediate connection – Ace looked just like his childhood dog, Casey. Matt spent two hours playing with him. Later on, the friend was moving and selling some of his things. Matt inquired how much Ace was. He was told the dog was not for sale, but the persistent man finally convinced the friend to part with the dog. They have been close ever since.
When told about how Ace alerted Matt to the fire, family and friends were not surprised.
"I don't think many of them were surprised because they know that he's always by my side," Viola said as he gently ruffled the fur on Ace's head. "He's protective of me. He's always been there through the hard stuff."