Nevada pit bull lovers can celebrate – Governor Brian Sandoval has just signed a bill into law that prohibits municipalities from banning dogs based on their breed.
Assembly Bill 110 was pioneered by Best Friends Animal Society, who worked closely with Assemblyman James Ohrenschall. The bill makes Nevada the 14th state to ban breed discrimination laws.
"Best Friends is proud that Nevada has taken steps to prevent breed discrimination. Every American who follows the right safety rules as a responsible dog owner should be allowed to own whatever breed of dog they choose," said Ledy VanKavage, senior legislative attorney who helped draft the bill. "Our fundamental goal is to achieve safe and humane communities. We want our communities to be protected against dangerous dogs – and we want abused dogs to be protected from irresponsible owners. Because everyone benefits from a safe society – both people and pets."
Best Friends contacted local legislators to support the bill. Mel, one of the Victory dogs brought to BFAS after the Michael Vick dog-fighting bust, made an appearance with loving new owner Richard Hunter to testify before the state senate.
"Assembly Bill 110 bans breed discriminatory laws from being enacted anywhere in Nevada," Assemblyman Ohrenschall said, "I'm confident that this law will benefit dogs, dog owners and animal lovers throughout our great state. It has always been bad public policy to enact ordinances that target a certain breed of dog without considering that individual dog's actions. I'm proud of sponsoring this legislation because it will help keep our innocent friends from being killed needlessly and senselessly. This bill will help strengthen the bond between humans and our beloved dogs."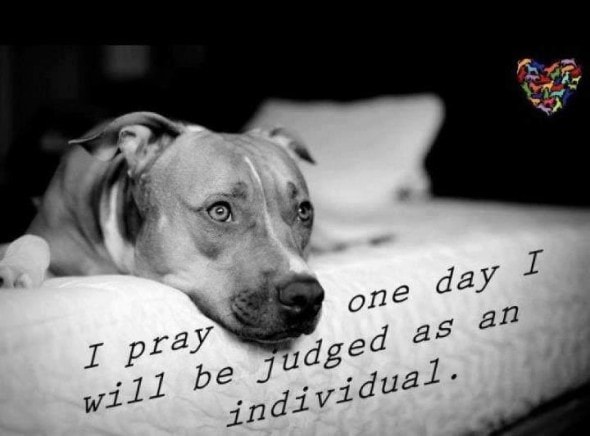 Studies conducted in countries with breed specific legislation show that the discriminatory laws do not reduce the number of dog bites or improve public safety. These studies and concerns about due process and property rights infringement are why the American Bar Association, the National Animal Control Association and the American Veterinary Medical Association do not support such measures. They do support laws that aim to address the real issues – reckless owners and individual dogs with behavior problems.
Best Friends has spent years encouraging governements to adopt breed-neutral laws that go after individual aggressive dogs and reckless owners. They promote lawmakers to focus on the main causes of aggression – failure to spay/neuter, failure to properly train and socialize, and abuse, neglect, and leaving dogs tethered for extended periods.
The new law takes effect October 1, 2013.