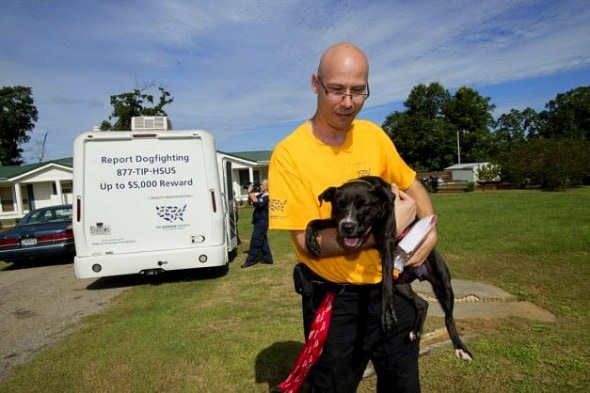 The lives of two dogs were saved when police in west Georgia conducted a raid of a suspected dog fighting operation. The 34 people arrested will be facing numerous charges, including cruelty to animals and conspiracy to commit or promote dog fighting.
Meriwether Sheriff Chuck Smith says several agencies, with the help from helicopters from the Coweta County Sheriff's Office and Georgia's Department of Natural Resources, made the bust around 10:30 pm on Saturday.
"Our narcotics unit has worked on gathering intelligence on the event and at a moment's notice they rallied up and met at the training center where a briefing was conducted," Smith said. "When the helicopter pilots hit their target with spotlights, participants and spectators ran into the arms of waiting officers holding a perimeter around the event."
A big "fighting pit" was discovered, along with an emaciated and bloody female pit bull. She and another dog were taken into custody. Also seized were several guns, $28,000 in cash and 27 vehicles, one of which is a large "Express Wings" catering truck that was serving fried fish and chicken to fight spectators.
One of the individuals arrested was already wanted by US Marshals on a federal indictment of dog fighting. Smith said people had gathered from as far away as Arkansas and Michigan, and will be facing a battery of charges: cruelty to animals, conspiracy to commit or promote dog fighting, gambling, possession of a firearm during the commission of a crime, and theft-by-receiving stolen property.