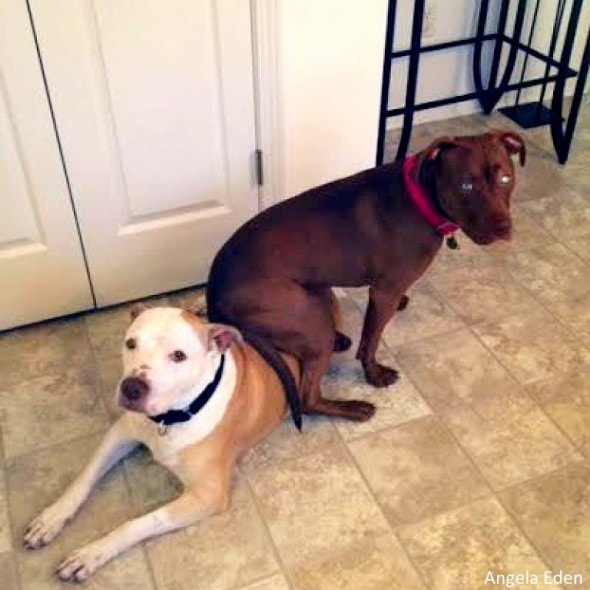 Duke and Dolly are just like any other brother and sister dogs – they snuggle, play, sleep and eat together.  But Dolly has an endearing – and perhaps annoying – habit:  she likes to lounge on top of Duke.
Angela Eden says her Duke is an older guy, adopted from an Indiana animal shelter.  After his owner died he was found alone in an apartment, "emaciated and heartworm positive."  She found his photo on Petfinder.com two years ago, and knew she had to bring him home.
"[He] still had that huge smile," she explained.  "He is the most perfect dog."
A few months after adopting Duke, the family brought home a puppy named Dolly.  They had a third dog, a golden retriever, but he had to be rehomed with Eden's father.
"When my daughter was a year old he started snarling," she said.  "It's so ironic because people are like 'pit bulls, pit bulls,' and I'm like, 'Actually, I had to get rid of my golden retriever.'"
Not long after the adoption, Dolly took to sitting on her brother.
"She will turn around and look first, so she can put her butt on him," Eden said.
The pit bulls are goofballs, and provide the family lots of relief from stress and anxiety.
"When I need a time out, I seek them," Eden.  "They know. They're so comforting to me."
Much of the time the pups wrestle and "snort around," with Duke playfully chomping on Dolly's ears.  The rest of the time, Dolly stacks herself on top of Duke, who takes it in stride.  He likely understands that he is Dolly's security blanket, or, in this case, bed.