Earlier today we reported that a dog named Gordo had narrowly survived being killed by a van involved in an hour-long high-speed chase in Los Angeles on Wednesday night.  The pup has undergone surgery and is expected to recover, and the man driving the van is going to spend the next two years in prison.
Yovani Ervin Rodriguez, 21, and his female passenger, Gwendi Yarubi Valenton, 26, led police on a televised, 100 mph chase that lasted over an hour.  Rodriguez drove the Chevrolet Astro right over a spike strip and kept going on just the rims.
Excited by all the commotion, Gordo darted out of his house and into the street, only to be struck by the careening vehicle.  The Maltese mix was able to limp back inside on a badly injured hind leg.  Owner Santos Son found him hiding in the bathroom and rushed him to a vet.
It seemed likely that his leg would have to be amputated, but after a thorough examination it was determined that Gordo's leg could be saved.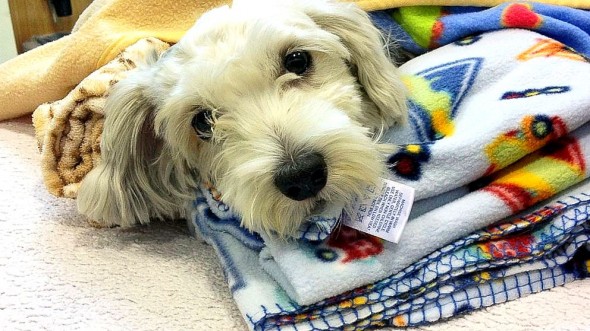 "He has a fractured hip and the top of his femur is fractured as well, and there's a deep muscle laceration running up the back of his leg," veterinarian Erich Stumpp said.
Thousands of people watched the chase on the news and were more than willing to donate towards the little dog's care.
"Gordo is a doing wonderfully.  He was a rock star under anesthesia," said Dr. Annie Lo.  "What we did was remove the ball portion of the joint, so a false joint can form and have scar tissue like it was normal."
The fleeing felons were arrested, and Rodriguez was charged with evading police while driving recklessly, taking a vehicle without consent, and hit-and-run.   He pleaded guilty, and was sentenced to two years in prison.  The DA's Office declined to file a case against Valenton.