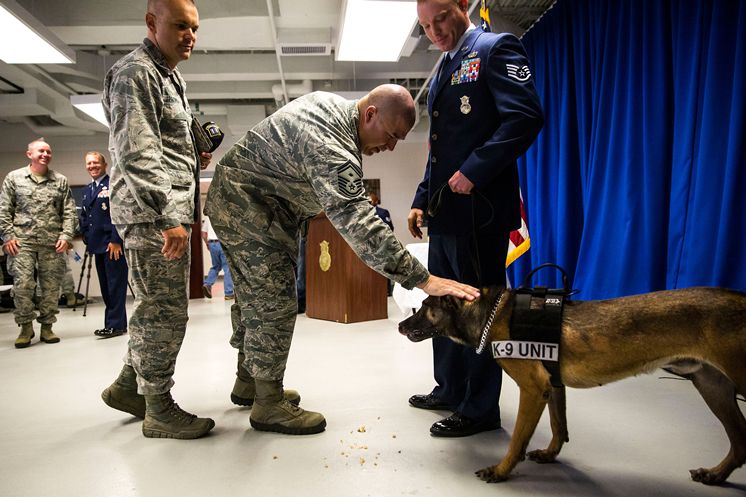 Eddie, a five-year-old Belgian Malinois, has the better part of the last five years at MacDill Air Force Base earning his reputation as a hero.  Now, he has the official documents to prove he is a hero.  He has retired from his tireless work as a part of the K-9 Unit, with full military honors.
While on active duty, Eddie did a tour of duty in Afghanistan.  When there, he was credited with saving an entire platoon, sniffing out two improvised explosive devices (IEDs).
On Friday, the 11th of April, Eddie could be seen standing proudly with Staff Sargent Shannon Hutto for his discharge ceremony.  Eddie has retired from the U.S. Military with full honors.  He was given many congratulations and salutes by the numerous fellow brothers in arms that turned up to see MacDill's Security Forces Squadron off on his way to a healthy, and hopefully full of love, retirement.
"Sometimes I get emotional when I think about everything he has done," said Hutto.  "He's the best partner I ever had."
Along with actually serving in active combat, Eddie has also been included in many security sweeps of important government facilities.  He has also been included in 15 Secret Service missions, involving the protection of both the president, and vice president.
The one thing he is most famous for, would have to be something he did during his deployment in 2012.  Hutto tells the tale of a two-hour foot patrol near a small Afghan village.  It was a long, hot one.  When the command to move out was given, Hutto got up to move, but Eddie just stayed put, nose nudging something buried in the ground.
Looking down to the ground, about six inches from his foot Hutto saw the copper contacts that would detonate explosives.
Eddie's reward for this excellent performance of duty was a red ball tossed in the opposite direction from where the IED was found.  A very short time later, Eddie had saved all of their lives again when he located another IED.  Air Force officials have confirmed that if not for Eddie's hard work, the entire platoon could have been lost.
With the room full of Air Force dog handlers, Eddie's fellow soldiers were recalling his achievements in the field, he was read a poem, and Hutto received an official discharge certificate.
After all the pomp and circumstance was over, Eddie received what one could only imagine would be just about any dog's dream, and a well-deserved reward for a job very well done.  Carol White, an Air Force private contractor gave Eddie a peanut butter and banana cake with a photo of himself on top.  Eddie gave the cake a quick, cautious sniff, as he had become accustomed to do to just about everything, but decided the cake was just fine, and helped himself to big mouthfuls.
Eddie is now to be released to his original handler, Staff Sargent Andrew Grymes, where he can ease himself back into the civilian lifestyle.