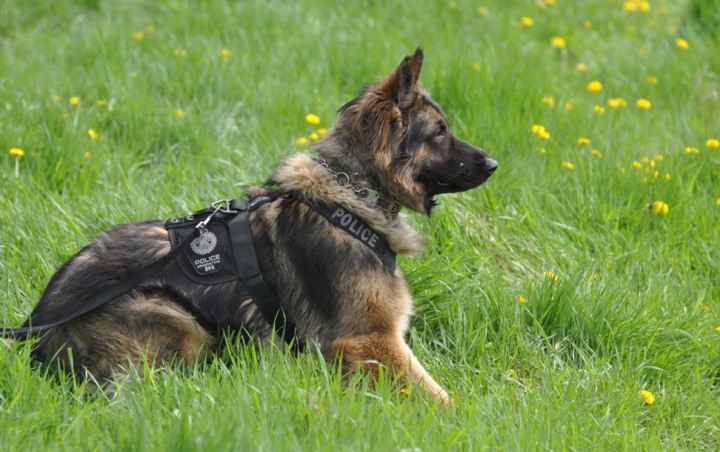 Police in Edmonton, Alberta are mourning the loss of their police dog Quanto after he was stabbed repeatedly by a fleeing suspect on Monday. Police are upset and demanding stricter laws to protect police dogs.
Around 5:15 a.m. on Monday police received a stolen vehicle call. When they responded to the call the vehicle took off. It was a short chase before the vehicle struck a median and the driver abandoned the car and took off on foot. The driver refused to listen to police instructions to stop.
Police dog Quanto and his handler Const. Matt Williamson tried to apprehend the suspect, but the man pulled out a knife and stabbed Quanto repeatedly. Quanto was rushed to the Edmonton Veterinarian Emergency Clinic where they were unable to save him.
Quanto had four years of decorated service with the Edmonton Police force. He helped make more than 100 arrests. His loss has been felt by the entire police force, particularly his partner and best friend Williamson.
The suspect has been identified as Paul Joseph Vakmavich. He will face charges for possession of stolen property, dangerous driving, criminal flight and resisting arrest. However, when it comes to his brutal killing of Quanto the strongest charge he can face is cruelty to an animal.
"It's been our intent to have that changed," said Troy Carrier, acting staff-sergeant of the Edmonton police canine unit. "We need to adjust the Criminal Code at some point in time and this is obviously a good time to do that."
The lack of protection for police dogs by the law has been something officers have wanted to see addressed for a while. While some provinces in Canada have made some changes to protecting service dogs, police would like to see a law that is applicable across all of Canada.