Meet Don Félix and Lobito. At the beginning of this month, Don Félix was walking the streets of Veracruz, Mexico, carrying his best friend and crying, while looking for help. Lobito (little fox), a street dog adopted by the old man, was on his death bed.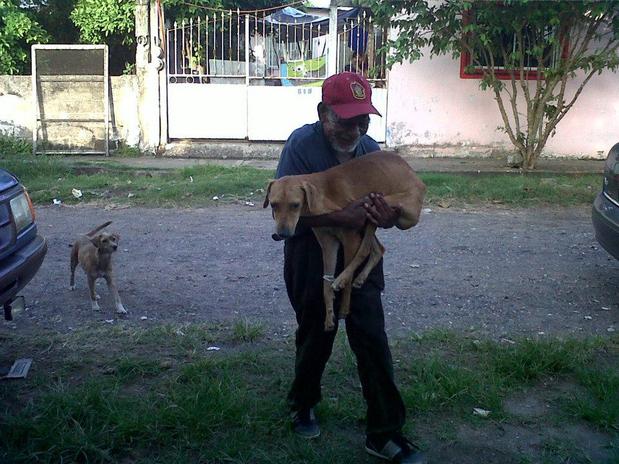 "Don Félix is a street recycling man who collects cardboard boxes to make a living. He adopted Lobito, his only life companion," said Gabriela Martínez Castro, the woman who is helping the pair. "People in town told me he was walking the streets, carrying Lobito and crying. [Don Félix] was asking for help and offered 60 Mexican Pesos ($4.62) so that Lobito's life could be saved."
Martínez Castro sprung into action and instructed Don Félix and Lobito to visit a nearby veterinarian. The dog was suffering from Ehrlichiosis, but lucky for the canine and his loving owner, the bacterial infection is treatable.
"I spoke with the vet and told them to do whatever it was possible to save this dog's life" said Martínez Castro. "When I arrived at the vet's office, Lobito was already being treated. Don Félix was standing next to him with his eyes red from crying. He was worried but was paying close attention to everything being done."
When Martínez Castro realized how much this old man loved his pet she knew she wouldn't be able to just help them once. Martínez Castro knew she had to do more to change their lives.
Immediately she took to Facebook and created a page where she informed the public about Don Félix and Lobito. She wanted the community to step in and help.
"There is unconditional love between [Don Félix and Lobito]. Our mission is to help them both because they only have one another, and Maricela, a neighbor, who looks after the old man and his dog," said Martínez Castro.
The purpose of the Facebook page is to help Don Félix and Lobito live better. Don Félix is a very poor man, who works the entire day looking for recycling material he could sell and get money to buy food. Martínez Castro wants to help the old man retire. She wants him to have a more suitable and safe home without dirt floors, a few kitchen appliances so that he could cook his meals, clothing items, and hopefully Don Félix can receive the medical care he really needs. Martínez Castro also wants the community to help Lobito as well, by helping pay for the dog's medical treatment. Both, Don Félix and Lobito deserve a better way of life.
Martínez Castro is Don Félix and Lobito's guardian angel, she works for local animal rescue group CODEBA and through them she is helping the old man and his beloved dog.
Since the Facebook page was created on August 14, thousands of people have stepped in to help. Lobito is being treated at home and has gained a few pounds. Don Félix cannot believe the outpour of love and support he receives from complete strangers. He once felt lonely and unloved and now he sheds tears of happiness when he sees strangers coming to his aid.
If you want to learn more about Don Félix, Lobito, and how you can help, visit their Facebook page or CODEBA's facebook page.