Marcus doesn't seem to be cut out for life at a New Zealand lodge.  He prefers sleeping indoors and going on car rides to being outside in a paddock.  This wouldn't be unusual if Marcus was a dog, but he's a sheep.  So now he's going to a home where his unique personality can shine.
Marcus the lamb seems a bit species-confused.  He doesn't want to hang out with the other sheep – he wants to be inside with all the people at the Grasmere Lodge.  There are a couple of resident dogs there, so perhaps they're where he's getting the idea that he's no ordinary sheep.
"He's more or less a human/dog in a sheep's body," said lodge manager Thomas Butler.
His insistence on being in the lodge or hanging about just outside the doors would be far more endearing if it weren't for one particular sheep behavior that Marcus can't lose:  he poops EVERYWHERE.  Staff members find him adorable, but are less than pleased by his doorstep offerings.
"They're not that keen on him funnily enough, so it's a love hate relationship, he's obviously quite cute, but he leaves deposits everywhere," Butler explained.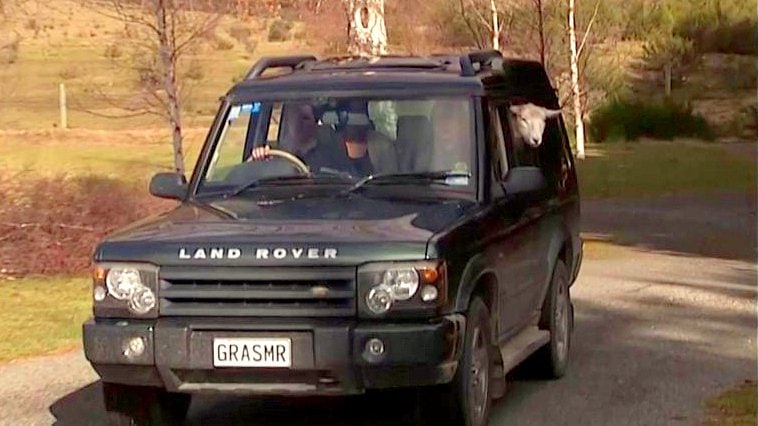 His little gifts aren't the kind the owners would like to constantly have bestowed upon their guests, so a new home needed to be found for the silly little guy.
"It'd be wonderful if he'd learnt how to clean up after himself, and then he'd probably be welcome to stay," Butler said.
The lodge took to the internet to find a proper home for Marcus.  Bridget Parker and her family are happy to welcome him to their home.  But because of his lack of self-control in the defecation department, he'll still have to stay outside.
"I don't think he's going to be able to live in the garden cause of the roses, he'll kill them all, so he'll be in a paddock just over here or around the house," she said.
However, Marcus will be receiving lots of attention from Parker's kids.